Mottaki met with Afghan Foreign Minister Rangin Dadar Spanta, who told a news conference that Iran's controversial nuclear program is not a concern for the Afghan government.
"Iran's nuclear activities do not pose a threat to Afghanistan. Iran is not a threat to us in any way," Spanta said. "Iran is our friend. Iran is our ally in the fight against terrorism and the fight against drugs. Iran has been our supporter in strengthening government bodies. There are no signs or indications that would made us feel concerned or threatened."
Mottaki told the press conference the UN Security Council resolution approving limited sanctions against Iran was illegal and he added that the UN should not be a place for threatening and limiting the rights of nations.
Mottaki also said foreign forces currently in Afghanistan should return to their countries after their mission is over.
During his two-day official visit, Mottaki is due to meet Afghanistan's President Hamid Karzai and several other Afghan officials.
Iran has been strengthening its ties with Afghanistan following the fall of the Taliban in 2001.
In other news, U.K. defense officials today said that one British soldier was killed and three others were wounded in an attack in southern Afghanistan. The casualties came when an explosion caused their vehicle to crash in Helmand Province.
Southern Afghanistan recently has seen the worst fighting in the country since U.S. -led forces ousted the Taliban regime in 2001. More than 160 foreign troops have been killed in Afghanistan this year.
(AP, AFP, Reuters, Sky News, IRNA)
The Afghan Insurgency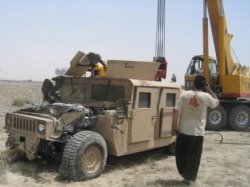 A U.S. military vehicle damaged by insurgents near Kandahar (epa)
HOMEGROWN OR IMPORTED? As attacks against Afghan and international forces continue relentlessly, RFE/RL hosted a briefing to discuss the nature of the Afghan insurgency. The discussion featured Marvin Weinbaum, professor emeritus of political science at the University of Illinois at Urbana-Champaign, and RFE/RL Afghanistan analyst Amin Tarzi.
LISTEN
Listen to the entire briefing (about 83 minutes):
Real Audio
Windows Media
ARCHIVE
RFE/RL's
coverage of Afghanistan
.
SUBSCRIBE
For weekly news and analysis on Afghanistan by e-mail,
subscribe to "RFE/RL Afghanistan Report."