The Afghan Foreign Ministry says the two leaders will review all aspects of bilateral relations, but Aziz's meeting with President Hamid Karzai will come amid tensions heightened by a row over Pakistan's decision to fence and mine their joint border.
Karzai has pledged to use "every method" to prevent the 2,600-kilometer border from being fenced and mined. He has said that such action would prevent the traditional movement of Pashtun tribes and families back and forth across the frontier, which was drawn arbitrarily by the British in the 19th century and is still disputed by many Afghans.
"Planting land mines or putting up barbed wire will not stop terrorism, but it will bring about the separation of people, and Afghanistan is very much against it," Karzai said in late December.
Aziz said before his arrival that Islamabad will go ahead with the mining and fencing of parts of the frontier, with the purpose of preventing extremists from crossing onto Afghan soil.
Porous Border
Kabul has repeatedly complained that Pakistani authorities are not doing enough to stop the flow of extremists across the rugged border. The extremists are said to have havens in Pakistan, from which they strike at Afghanistan.
Karzai went further in his criticism of Pakistan in December. He declared that Islamabad is supporting the Taliban Islamic militia, which is engaged in fierce fighting with NATO-backed stabilization forces in Afghanistan. Pakistan has denied this.
Karzai has also warned that the presence of the extremists on the Pakistani side of the border poses a security threat to Pakistan itself.
"You may have observed that the situation in two Pakistani provinces -- Baluchistan and the North-West Frontier Province -- is deteriorating day by day," Karzai said. "The reason for this is that terrorists have found a safe haven in these provinces, and it is only if these safe havens are dismantled and banned that the problem will be solved in Afghanistan and Pakistan."
'Cold War'
A professor of political science in Kabul, Wadir Safi, tells Radio Free Afghanistan today that the two neighboring countries are in fact engaged in a "cold war" -- despite the fact that they are both U.S. allies in the war on terror.
Prime Minister Aziz with Afghan President Hamid Karzai in 2006"Shaukat Aziz is traveling to Afghanistan at a time when a cold war between Pakistan and Afghanistan is heightened over Pakistan's intervention -- [Pakistan's alleged] lack of sincere cooperation and failure in preventing armed groups going into Afghanistan," Safi says.
Despite the sharpness of the criticism coming from the Afghan side, a spokeswoman for Pakistan's Foreign Ministry, Tasnim Aslan, injected an optimistic tone into her remarks about the trip.
She said Islamabad attaches "great importance" to its relations and interactions with Kabul, and that contacts like today's talks are "helpful" in addressing mutual challenges.
But Peshawar-based Pakistani analyst Afrasiab Khattak says he has some doubts as to whether progress can be made.
"If Shaukat Aziz has some new proposals for the Afghan government that will satisfy them, then I think this trip will bring results," Khattak says. "Otherwise, it will be another official trip where some official comments will be made and the visit will end."
Other topics that are expected to figure in the Karzai-Aziz discussions include economic cooperation and international progress in curbing terrorism.
Afghanistan And Pakistan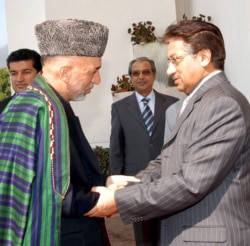 Afghan President Hamid Karzai (left) with Pakistani President Pervez Musharraf in Islamabad in October 2005 (epa)

ACROSS A DIFFICULT BORDER. The contested border between Pakistan and Afghanistan is some 2,500 kilometers long and runs through some of the most rugged, inhospitable territory on Earth. Controlling that border and preventing Taliban militants from using Pakistan as a staging ground for attacks in Afghanistan is an essential part of the U.S.-led international coalition's strategy for stabilizing Afghanistan. Officials in Kabul have been pointing their fingers at Pakistan for some time, accusing Islamabad or intelligence services of turning a blind eye to cross-border terrorism targeting the Afghan central government. Many observers remain convinced that much of the former Taliban regime's leadership -- along with leaders of Al-Qaeda -- are operating in the lawless Afghan-Pakistani border region.... (more)
RELATED ARTICLES
Pakistan-Afghanistan Conflicts Continue
Karzai, Musharraf Spar Ahead Of Bush Meeting
Musharraf Says Taliban Could Spark Pashtun 'National War'
Afghan Minister Attacks Pakistani Support For 'Terrorism'
Historical Context Of Afghan-Pakistani Relations
Afghanistan/Pakistan: 'Inseparable Twins' In Need Of Separation
ARCHIVE
RFE/RL
coverage of Afghanistan
. RFE/RL
coverage of Pakistan
.
SUBSCRIBE
For weekly news and analysis on Afghanistan by e-mail,
subscribe to "RFE/RL Afghanistan Report."