Taliban Leader Says He Hasn't Seen Bin Laden For Years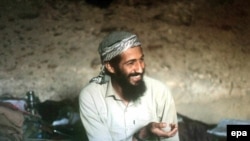 A 1988 photo of Osama bin Laden (epa) January 4, 2007 -- Taliban leader Mullah Mohammad Omar says he has not seen fellow fugitive Osama bin Laden since U.S.-backed forces ousted the Taliban regime from Afghanistan in late 2001.
But Omar, in an e-mail message sent to Reuters today, said he prayed for the health and safety of the Al-Qaeda leader.
Omar also reiterated his call for the withdrawal of foreign troops to end the conflict in Afghanistan, saying unless that happened, the war "would heat up further."
Omar essentially ran Taliban-controlled Afghanistan, including hosting bin Laden and his Al-Qaeda training camps, until the international invasion following Al-Qaeda's attack on the United States in 2001.
Periodic statements purporting to be from spiritual leader Omar have appeared since the Taliban fled Kabul.
In the latest violence, Taliban loyalists today claimed responsibility for planting a roadside bomb that killed five Afghan security staff on January 3 in southern Oruzgan Province.
(Reuters, dpa)