Karzai made the comments after a meeting today in Kabul with visiting Pakistani Prime Minister Shaukat Aziz.
"Unfortunately, the differences in relations between Afghanistan and Pakistan are increasing, not narrowing," Karzai said. "It is really regrettable that relations between two neighboring countries, between two very close countries, are faced with a crisis of confidence."
Karzai also reiterated his administration's objection to Pakistani plans to mine and fence part of the border with Afghanistan, and he said such a move would not stop terrorism.
"We believe that mines or barbed wire cannot stop terrorism," Karzai said. "The best way to defeat terrorism is to destroy its sources."
Officials in Kabul have repeatedly charged that Pakistani intelligence -- which played a key role in the arming of Afghans to oppose the Soviet invasion and purportedly enjoyed close ties to the hard-line Taliban regime -- does too little to discourage terrorist elements from using that country as a safe haven.
Aziz, for his part, said Islamabad continues to explore the plans in order to discourage people from crossing the border, which many Afghans regard as illegitimate.
(with additional reporting by AFP, Reuters)
The Afghan Insurgency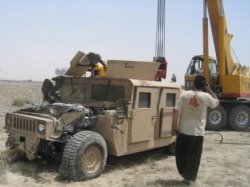 A U.S. military vehicle damaged by insurgents near Kandahar (epa)
HOMEGROWN OR IMPORTED? As attacks against Afghan and international forces continue relentlessly, RFE/RL hosted a briefing to discuss the nature of the Afghan insurgency. The discussion featured Marvin Weinbaum, professor emeritus of political science at the University of Illinois at Urbana-Champaign, and RFE/RL Afghanistan analyst Amin Tarzi.
LISTEN
Listen to the entire briefing (about 83 minutes):
Real Audio
Windows Media
ARCHIVE
RFE/RL's
coverage of Afghanistan
.
SUBSCRIBE
For weekly news and analysis on Afghanistan by e-mail,
subscribe to "RFE/RL Afghanistan Report."