Russian Forces Battle Militants In Daghestan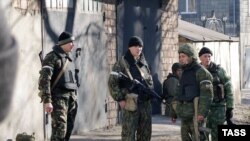 Russian special forces in Makhachkala today (ITAR-TASS) January 11, 2007 -- Russian special forces said they killed three suspected militants in the southern Russian Republic of Daghestan after a gun battle that lasted several hours.
The gun battle began when police surrounded a group of gunmen in an apartment building in the capital, Makhachkala.
Shoot-outs between police and suspected rebels have become more frequent in Daghestan in recent months, fuelling fears of a spillover of violence from neighboring Chechnya.
(compiled from agency reports)


RFE/RL's complete coverage of Russia's war-torn Republic of Chechnya.
CHRONOLOGY
An
annotated timeline
of the Chechnya conflict.