Liana Askerova was reportedly detained on January 10. A Moscow court today ordered that she remain in custody for two months, but did not formally charge her.
Kozlov was Russia's chief banking supervisor and had shut down dozens of banks accused of money laundering. He was shot dead in Moscow on September 13, 2006.
On January 11, police reported the detention of a man suspected of ordering his murder. A lawyer later identified that suspect as Aleksei Frenkel, a well-known financier.
Frenkel formerly chaired a bank that had its license withdrawn by the Central Bank for money laundering.
Three other suspects were reportedly arrested in October 2006.
(compiled from agency reports)
Democracy In Russia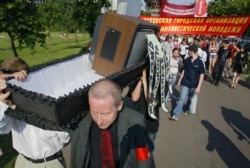 Demonstrators in Moscow carry a coffin with a television in it to protest government control over broadcasting (TASS file photo)


DO RUSSIANS LIKE THEIR GOVERNMENT? During a briefing at RFE/RL's Washington office on November 15, Richard Rose, director of the Center for the Study of Public Policy at the University of Aberdeen, discussed the results of 14 surveys he has conducted since 1992 on Russian public opinion about democracy and the country's development. He discussed the implications of these opinions for relations with the West and for Russia's 2008 presidential election.
LISTEN
Listen to the complete discussion (about 42 minutes):

Real Audio
Windows Media
RELATED ARTICLES
U.S. Election Expected To Chill Relations With Moscow
Are Mayors Next 'Power Vertical' Victim?
Monarchist Nostalgia Remains Powerful
Russian Election Commission Rejects Third-Term Appeal
Romanov Burial May Be Part Of Kremlin Image Campaign
ARCHIVE
All of RFE/RL's English-language coverage of
Russia
.


UPDATED CONSTANTLY: Visit RFE/RL's Russian-language website, featuring news, analysis, features, streaming audio, and more, in Russian, from RFE/RL's Russian Service.