"We are meeting in this format today because of a tragic case -- the murder of the first deputy chairman of the Russian Central Bank -- and I think you will agree with me that it is a manifestation of the intensifying situation in the struggle against crime in the economic sphere," Putin said, addressing a meeting of bankers and law enforcement officials today.
Central Bank First Deputy Chairman Andrei Kozlov was shot dead late on September 13. He had been in charge of a campaign against money laundering in the banking system.

Putin called for an interagency task force -- including prosecutors, customs, and intelligence officers -- to be set up to crack down on financial crime.

He also demanded legislative changes to stamp out suspicious dealings in banking.

( Reuters, ITAR-TASS)
Russia's Battle Against Corruption
Russia's Battle Against Corruption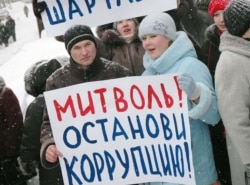 Citizens of Russia's Urals region protest against alleged corruption in connection with a proposed smelting plant on Lake Shartash (TASS)

'A NATIONAL THREAT': Russian President Vladimir Putin highlighted the crippling problem of corruption during his annual address to the Federal Assembly in May. He emphasized the damaging impact of corruption on the country's economy and pledged to rid Russia once and for all of a "serious obstacle" ...(more)

RELATED ARTICLES
Corruption And The Kondopoga Riots
Anticorruption Drive Touches The 'Untouchable' FSB
Corruption Crackdowns A Sign Of Things To Come
Fight Against Corruption Starts With Interior Ministry
'Voluntary-Compulsory Charity' In Russia
Putin's Secret Plan To Combat Corruption?
Russia -- Between Terror And Corruption
ARCHIVE
RFE/RL's complete
coverage of Russia
.
SUBSCRIBE
For news and analysis on Russia by e-mail,
subscribe to "RFE/RL Russia Report."