Kozlov died after undergoing emergency surgery on wounds to his head and body.
During a cabinet meeting in Moscow today, Prime Minister Mikhail Fradkov called for a minute of silence to honor Kozlov, whose death he called a "serious loss.".
Kozlov's driver was also killed in the attack, which occurred in northeastern Moscow's Sokolniki district outside a sports arena where bank workers had been playing soccer.
The gunmen were waiting for Kozlov as he emerged from the arena.
During the cabinet meeting today, Interior Minister Rashid Nurgaliyev described how the investigation is proceeding.
"After the crime was committed yesterday, the most experienced officials from the Criminal Investigations Division, from the Organized Crime Division, [along with] the head of the city police, went to the scene," Nurgaliyev said. "I am in practical control of all phases of the investigation."
Kozlov had been in charge of an aggressive campaign against money laundering and other crimes in Russia's banking system.
"We are working on a scenario that is work-related, and we are pursuing other scenarios as well," Nurgaliyev told the cabinet.
(AFP, AP, RIA Novosti, Interfax, Reuters)
Russia's Battle Against Corruption
Russia's Battle Against Corruption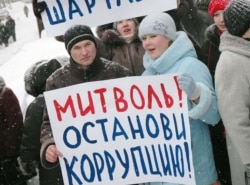 Citizens of Russia's Urals region protest against alleged corruption in connection with a proposed smelting plant on Lake Shartash (TASS)

'A NATIONAL THREAT': Russian President Vladimir Putin highlighted the crippling problem of corruption during his annual address to the Federal Assembly in May. He emphasized the damaging impact of corruption on the country's economy and pledged to rid Russia once and for all of a "serious obstacle" ...(more)

RELATED ARTICLES
Corruption And The Kondopoga Riots
Anticorruption Drive Touches The 'Untouchable' FSB
Corruption Crackdowns A Sign Of Things To Come
Fight Against Corruption Starts With Interior Ministry
'Voluntary-Compulsory Charity' In Russia
Putin's Secret Plan To Combat Corruption?
Russia -- Between Terror And Corruption
ARCHIVE
RFE/RL's complete
coverage of Russia
.
SUBSCRIBE
For news and analysis on Russia by e-mail,
subscribe to "RFE/RL Russia Report."