A NATO spokesman confirmed the January 11 air strike, but said there was no information suggesting civilian casualties.
NATO, which came under heavy pressure from Kabul in 2006 over noncombatant fatalities, vowed to reduce civilian deaths at the hands of international forces in 2007.
The latest strikes come after NATO-led forces the same day said forces had killed or injured some 130 suspected Taliban militants crossing into Afghanistan's eastern Paktika Province from Pakistan.
In fresh violence today, a suicide bomber rammed an explosives-filled car into a vehicle in Logar Province, south
of Kabul. Police said a U.S. national and two Afghan civilians were injured.
(Reuters, dpa, AP, AFP)
The Afghan Insurgency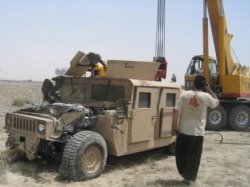 A U.S. military vehicle damaged by insurgents near Kandahar (epa)
HOMEGROWN OR IMPORTED? As attacks against Afghan and international forces continue relentlessly, RFE/RL hosted a briefing to discuss the nature of the Afghan insurgency. The discussion featured Marvin Weinbaum, professor emeritus of political science at the University of Illinois at Urbana-Champaign, and RFE/RL Afghanistan analyst Amin Tarzi.
LISTEN
Listen to the entire briefing (about 83 minutes):
Real Audio
Windows Media
ARCHIVE
RFE/RL's
coverage of Afghanistan
.
SUBSCRIBE
For weekly news and analysis on Afghanistan by e-mail,
subscribe to "RFE/RL Afghanistan Report."