NATO Vows To Cut Down On Afghan Civilian Casualties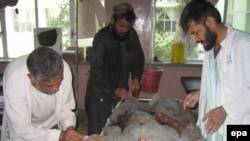 An injured Afghan receiving medical treatment (file photo) (epa) January 3, 2007 -- NATO says it will work hard to bring down the number of civilians killed by its forces in Afghanistan.
A spokesman for the alliance, Brigadier Richard Nugee, said that NATO forces had killed a number of Afghan civilians during military operations last year, but that the alliance was working to change that in 2007.
Nugee said NATO forces have killed far fewer civilians than the Taliban, which significantly increased its attacks during the past year.
(AP,dpa)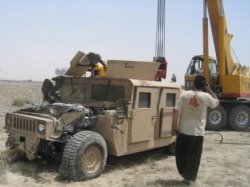 A U.S. military vehicle damaged by insurgents near Kandahar (epa)
HOMEGROWN OR IMPORTED? As attacks against Afghan and international forces continue relentlessly, RFE/RL hosted a briefing to discuss the nature of the Afghan insurgency. The discussion featured Marvin Weinbaum, professor emeritus of political science at the University of Illinois at Urbana-Champaign, and RFE/RL Afghanistan analyst Amin Tarzi.
LISTEN
Listen to the entire briefing (about 83 minutes):
Real Audio
Windows Media
ARCHIVE
RFE/RL's
coverage of Afghanistan
.
SUBSCRIBE
For weekly news and analysis on Afghanistan by e-mail,
subscribe to "RFE/RL Afghanistan Report."