NATO Says Reconstruction Crucial Weapon Against Taliban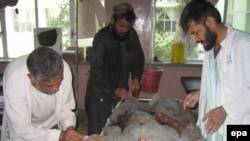 Noncombatant casualties of the fighting have contributed to public frustration in Afghanistan (file photo) (epa) October 11, 2006 -- NATO's top commander in Afghanistan says reconstruction must move forward during the next six months if the alliance is to maintain the support of the Afghan public.
Lieutenant General David Richards also has said that up to 70 percent of Afghans could begin to side with the Taliban and other guerrilla fighters if there is no major change in the country's security situation in the next half year.

Richards' remarks are among the bluntest assessments to have emerged from international forces in Afghanistan since the U.S.-led ouster of the Taliban in late 2001.
They come amid increasing criticism about the use of air strikes and other powerful military tactics against Taliban guerrilla fighters who mingle with civilian populations in the south and east of the country.

Military experts say anger among Afghans about civilian casualties resulting from such tactics makes it easier for armed opponents of the central government to recruit fighters.

(AFP, Reuters)