Kyrgyz Pilgrims To Be Buried In Saudi Arabia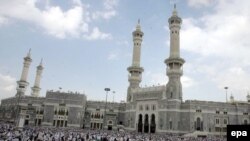 Muslim pilgrims outside the Al-Haram Sharif Mosque in Mecca (file photo) (epa) BISHKEK, January 14, 2007 (RFE/RL) -- Authorities in Kyrgyzstan say all 22 Kyrgyz pilgrims who died in a bus collision on January 12 while returning home from the Hajj in Mecca will be buried in Saudi Arabia.
The head of the state agency for religious affairs, Jolbors Jorobekov, told RFE/RL's Kyrgyz Service that the relatives of the traffic accident victims agreed they should be buried there. Some 17 other Kyrgyz were injured, and two of them are in serious condition.
Jarobekov told RFE/RL's Kyrgyz Service that the injured Kyrgyz will be transported home on January 15.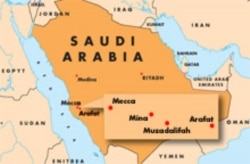 Click on the map for an enlarged image.

THE HAJJ: Every year, Islamic pilgrims converge on the Saudi holy city of Mecca for what is considered to be the world's largest single gathering of human beings -- the annual hajj pilgrimage, the fifth and final pillar of Islam. Hajj literally means "to set out for a place," and every able-bodied Muslim with the means to do so is expected to make the pilgrimage at least once in their lifetime, traditionally after first settling all their wordly affairs...(more)