A spokesman for the national intelligence agency, Sayed Ansari, said that Muhammad Hanif, who often contacted the media to deliver messages on behalf of the Taliban, was arrested in the border town of Torkham after arriving from Pakistan.
Two people traveling with him were also detained.
A previous individual who purported to speak for the Taliban, Mufti Latifullah Hakimi, was captured by Pakistani authorities in October 2005.
At least a dozen people have, at various times and sometimes concurrently, claimed to speak on behalf of the Taliban since the announcement in 2003 of the creation of a Taliban "leadership council."
(AP, AFP)
The Afghan Insurgency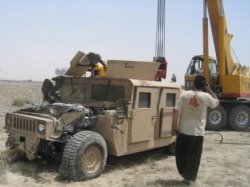 A U.S. military vehicle damaged by insurgents near Kandahar (epa)
HOMEGROWN OR IMPORTED? As attacks against Afghan and international forces continue relentlessly, RFE/RL hosted a briefing to discuss the nature of the Afghan insurgency. The discussion featured Marvin Weinbaum, professor emeritus of political science at the University of Illinois at Urbana-Champaign, and RFE/RL Afghanistan analyst Amin Tarzi.
LISTEN
Listen to the entire briefing (about 83 minutes):
Real Audio
Windows Media
ARCHIVE
RFE/RL's
coverage of Afghanistan
.
SUBSCRIBE
For weekly news and analysis on Afghanistan by e-mail,
subscribe to "RFE/RL Afghanistan Report."