But it is far from easy to find a representative who is willing to talk to the press. Instead, requests for interviews can be met with a brusque turning away to suddenly pay attention to just about anything else happening to be taking place at the moment.
Or, equally often, the request can be brushed off with a counterrequest to question a rival's stall somewhere across the room.
The large Chinese presence at the fair at least serves as a warning to other nations. There is no guarantee that consumers give added value to handicrafts that are produced in their traditional country of origin
All this seems to suggest that in China's world of business, where state and private enterprise are often mixed, many remain wary of the media. But finally, amid the bustle of managers, staff, and interpreters, we find a few representatives ready to speak.
"This carpet is 800 lines, it is the finest reproduction ever and the price, well, the production time for just this piece is two years, by hand, so the price is quite expensive. It is 10,000 euros [$13,000]," says Lai Cao, who works with the Shanghai Jinshan Silk Carpet Factory.
He's talking about a silk carpet that is not much larger than a sheet of paper and is an exquisite, diminutive reproduction of a classical Persian carpet. At 10,000 euros, anybody would put it under glass and frame it immediately.
The Persian reproduction is part of the company's offering that also includes startlingly lifelike renderings of photographs, including a silk portrait of a married couple. Until now, its market has mostly been Japan. But this year the Shanghai production house is at the Domotex fair to also enter the European market.
Best Form Of Flattery
Not far from this stand is another that offers something few at this fair have seen before.
As we approach, a lady introduces herself using the English name Lucia, saying it is easier for foreigners to remember. She has a half-dozen samples of weavings that are direct, good-quality reproductions of Afghan chobis.
The chobi design, a recent innovation of Afghan refugee weavers in Pakistan, is currently selling well in the West and the Chinese copies are a measure of its success.
We ask Lucia why her Qingdao Shenchuang Manufacture and Trade Company is making chobis instead of, for example, carpets with the beautiful antique Chinese designs her own country is famous for.
She cites the fundamental law of market economics: "This new Persian-style design sells much better, because the customers like this design, for the Western customers."
Globalization, Handmade

There is no doubt China can compete. Also looking at the Chinese renderings of the Afghan-designed carpets is Serge Nalbandian, who represents a Beirut-based company of the same name and presents us his business card. On it is written: "A Tradition of Passion. Since 1792."
Nalbandian is comparison shopping for chobis. He says the Afghan producers at the fair offer enormous stocks and range of choices. By contrast, the Chinese are just start-ups. But still he is interested in talking to them.
"China is trying to be very competitive [in] the carpet-manufacturing business and they are really producing a lot of things," Nalbandian says. "It is becoming very globalized to produce carpets handmade, using the best material available on the market [such as] natural colors. And they are really doing their best to be on the level."
Nalbandian goes away revealing nothing more of his plans. He may go back to the Afghans, or he may submit a design for a chobi with some artistic modifications of his own to the Chinese to reproduce. According to him, the quality and price involved in either choice is about equal.
That quality is something that Afghan producers dispute, citing the suppleness of wool from northern Afghanistan and the special expertise of their own weavers. But ultimately it is the market itself that will decide the issue.
Still, the large Chinese presence at the fair at least serves as a warning to producers from other nations. There is no guarantee today that consumers give added value to traditional handicrafts that are actually produced in their traditional country of origin. In this globalized world, both producers and consumers respect ever fewer national boundaries.
China In Central Asia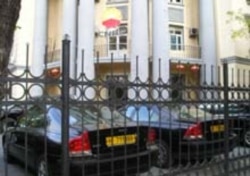 The Almaty,Kazakhstan, office of China's National Petroleum Corporation (RFE/RL)
BEIJING ON THE RISE:
The September 11, 2001, terrorist attacks against the United States prompted Washington to topple the Taliban regime in Afghanistan. At the time, many predicted the United States would gain a new foothold in Central Asia: new U.S. military bases appeared in Kyrgyzstan and Uzbekistan, U.S. foreign aid increased, and much U.S. attention was lavished on the region. Russia and China looked on warily. But the pendulum may be swinging back in Moscow's and Beijing's favor. China, especially, has expended great effort at winning friends in Central Asia and is becoming a force to be reckoned with
....(more)
RELATED ARTICLES
Turkmenistan-China Pipeline Project Has Far-Reaching Implications
Central Asia Looks To Fuel Asia's Economic Boom
The Geopolitical Game In Central Asia
ARCHIVE
To view an archive of RFE/RL's coverage of China, click here.

SUBSCRIBE
For weekly news and analysis on all five Central Asian countries by e-mail, subscribe to "RFE/RL Central Asia Report."