Ambassador Vyacheslav Kovalenko was recalled during a spying row in September, and Russia later imposed economic sanctions on Georgia and deported hundreds of Georgian nationals.
At a pre-departure meeting with Kovalenko today, Russian President Vladimir Putin said the first important step toward improving relations was made in December, when an agreement on Russian gas supplies in 2007 was reached. The deal more than doubled the price for gas.
"Unfortunately, we have been encountering certain problems in recent years," Putin told journalists after the meeting. However, in November of last year, the president of Georgia and I agreed that both sides would make steps aimed at normalizing our relations."
Putin also rejected Georgian accusations that Moscow is fomenting separatist movements in the Georgian regions of Abkhazia and South Ossetia.
"Our country has been playing a significant role in the settlement of the conflicts that we inherited from the past," Putin said. "And we will continue to make all necessary efforts in the future as well -- efforts that people living in those territories expect from us -- in order to resolve these problems in the best and fairest manner."
(Interfax, Reuters)
Moscow And Tbilisi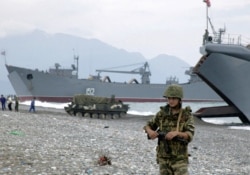 Russian military hardware being withdrawn from a Russian base in Batumi, Georgia, in August 2005 (TASS)

WHAT COMES NEXT? Although Russia is unlikely to push an aggressive military response to the current tensions with Georgia, it has a number of economic, political, and diplomatic options at its disposal. Already on October 1, Russian President Vladimir Putin summoned his inner circle to weigh Moscow's options... (more)
RELATED ARTICLES
Russia Says Georgia Sanctions Will Continue
Russia Suspends Transport, Postal Links To Georgia
EU Commissioner Urges Dialogue With Moscow
Ulterior Motives Seen Behind Escalation Of Spy Row
Georgia Turns Russians Over To OSCE
MORE: Coverage of the situation in Georgian from RFE/RL's Georgian Service and in Russian from RFE/RL's Russian Service.
ARCHIVE
RFE/RL's English-language coverage of
Georgia
and
Russia
.