Brawl Erupts Between Crimean Tatars, Security Personnel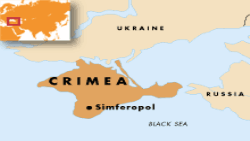 (RFE/RL) January 18, 2007 -- Several people were injured today when hundreds of Crimean Tatars brawled with workers from a real-estate company trying to evict them from their encampment on a city lot in Simferopol.
The Tatars refused to leave the land, arguing that regional authorities had failed to provide permanent housing for Tatars.
After the breakup of the Soviet Union, hundreds of thousands of Tatars returned to Crimea from where they were expelled by Soviet dictator Josef Stalin in 1944.
(dpa, lenta.ru)

2006 IN REVIEW: A photo gallery of key news events of 2006 from across RFE/RL's broadcast region. ...more