In the end, however, the meeting passed smoothly and was virtually problem-free. No major accords or breakthroughs were made, but for journalists on the scene, the story was more about mood than content.
Business Vs. Pleasure
Merkel in the past has been critical of the "special relations" evident between Putin and her predecessor, Gerhard Schroeder. As chancellor, she pledged never to mix the personal and the political when it came to Russia and its president. Her recent angry rhetoric following this month's cutoff in Russian oil supplies led many to believe the January 21 summit would be brusque and businesslike.
Events, however, evidently conspired to soften her resolve. The meeting, originally scheduled for Moscow, was moved to Bocharov Ruchei, Putin's personal summer residence in Sochi. The warm temperatures and clear skies immediately made the summit more informal and cozy. Merkel and Putin both looked relaxed, exchanging jokes, and speaking in a mixture of German and Russian.
Speaking The Language
The two leaders, of course, are unusually well-suited to communicate. Putin speaks fluent German, and Merkel speaks good Russian as well. As a student in communist East Germany, the chancellor once won a contest for superior knowledge of the Russian language, and was awarded with a two-week tour of the Soviet Union.
Merkel had ample opportunity to demonstrate her Russian skills during the Sochi summit -- often with Putin's encouragement. Asked by a Russian journalist how she liked the Black Sea setting, Merkel was instructed by Putin -- using the informal "ty" form -- to answer in Russian. The chancellor dutifully obliged.
Later, when Koni, Putin's black Labrador, made her domineering entrance, Merkel nervously, or perhaps wishfully, commented in Russian, "Now the dog is going to eat the journalists." Finally, drinking tea together with Putin at a small garden table, Merkel jokingly raised her cup in a vodka-like toast and wished Russian president good health in his native language.
Warm, Or Weird?
The Gazprom-controlled "Izvestia" newspaper enthusiastically endorsed the cordial, if not expressly amicable, atmosphere of the Sochi meeting, saying relations between Putin and Merkel are beginning to be reminiscent of Putin's warm relations with Schroeder.
Not everyone was as awestruck, however. Kremlin critic and journalist Yulia Latynina, writing for "Yezhednevny zhurnal," said the "friendly meeting in Sochi between Vladimir Putin, Angela Merkel, and Labrador Koni" left her bewildered.
Following Germany's refusal last autumn to join in exploitation projects on Russia's Shtokman gas field, and Russia's eviction of foreign majority control of the Sakhalin-2 project -- not to mention the recent Minsk-Moscow dispute and subsequent oil cutoff -- the mood was impossible to comprehend, Latynina wrote.
Latynina went on to speculate that the friendly atmosphere was standard for Putin, who often disarms his counterparts with an unexpected dose of charm. Former Italian Prime Minister Silvio Berlusconi, French President Jacques Chirac, and Schroeder -- not to mention U.S. President George W. Bush -- have all been "recruited" by Putin's KGB-bred powers of persuasion, Latynina writes.
Putin, in fact, has boasted in the past that his KGB background has made him a "specialist of interpersonal relations." But Latynina is probably exaggerating both Putin's talents and the Western leaders' naivete.
The Thick Of Things
If Merkel is interested in enjoying good communication with Putin, it is less likely due to his personal allure and more Germany's current role at the center of the European political scene.
Germany currently heads both the European Union and the Group of Eight (G8) club of major industrialized nations. It also remains the one great European power with relatively stable political leadership. It's an opportunity that Berlin hopes to use to consolidate its dominant position within the European alliance and to harmonize different factions within the body. For example, Germany has backed Poland during its standoff with Russia over a meat import ban and the building of the Nord Stream pipeline, which circumvents Poland.
The tactic apparently worked. Putin in Sochi proposed extending a branch of the Nord Stream project to Poland. He also suggested setting up a gas reservoir in Germany to make the country a new distribution center for Russian gas. Merkel said she has no objections.
Finally, Germany -- as Russia's biggest trade partner in Europe -- is interested in developing bilateral trade relations. This is key not only for energy supplies, but because contracts from Russia can boost employment in economically depressed regions of Germany, particularly in the east.
Allies Dwindling
Russia, too, stands to gain from a close partnership with Germany -- especially because it is unclear who will be the next leader of France, which assumes the EU chairmanship in the second half of 2007.
Until recently, Chirac's France was the only major European power to compete with Germany for Russia's heart. But with people looking ahead to presidential elections in May, that equation, for the time being, is unclear.
At least one French presidential hopeful, Interior Minister Nicolas Sarkozy, has already sparked Russian irritation. Asked by a journalist whether he liked the U.S. model of democracy, Sarkozy answered rhetorically, "And what should I like, the Russian model?"
With Putin ally Berlusconi gone and Chirac and British Prime Minister Tony Blair soon to follow, Merkel, for now, is the only seasoned European leader left for Putin to do business with. Perhaps the next time they meet, Koni will have to stay outside.

Ukraine And European Energy Security
Ukraine And European Energy Security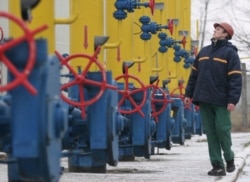 A worker inspects a gas facility outside of Kyiv (epa file photo)

MURKY CONNECTIONS. A year after the so-called gas war between Moscow and Kyiv, energy transhipments from Russia to Europe via Ukraine remain a concern. On December 1, RFE/RL's Washington office hosted a briefing featuring Tom Mayne, an energy researcher for the London-based Global Witness. Mayne discussed the lack of transparency in the energy sectors of Ukraine, Russia, and gas supplier Turkmenistan.
LISTEN
Listen to the entire briefing (about 60 minutes):

Real Audio
Windows Media
RELATED ARTICLES
Neighbors Watch As Russia Moves Toward WTO Membership
Kyiv Announces Terms Of New Russian Gas Deal
Former U.S. Ambassador Says Kyiv Can Cope With Gas Price Rise
ARCHIVE
RFE/RL's English-language coverage of
Ukraine
,
Russia
, and
Turkmenistan
.