Sales of arms and civilian nuclear technology are high on Putin's list, but India has grown to be an economic giant in the years since the Soviet Union collapsed, and the United States has moved closer to New Delhi on both the strategic and economic levels. So Putin might not have things all his own way.
Putin went directly into talks with Indian Prime Minister Manmohan Singh after his arrival in the Indian capital today for his two-day visit.
The ceremonial high point of the visit comes on January 26, when Putin will be guest of honor at celebrations marking India's Republic Day.
Tougher To Engage?
But the substance of the visit lies in Putin's determination to preserve and enhance Moscow's relationship with New Delhi in the face of rapidly changing circumstances.
Yuri Federov is Russian foreign policy analyst at the Chatham House research center in London. He says India is a fast-developing country, and Moscow will no longer find it easy to engage New Delhi's exclusive attention.
"It [India] prefers a very 'multivectoral' policy, and Russia is an important partner for India, yet not the only one," Federov says. "And I would say that India is seeking partnership relations [in addition] with the United States, and also with China -- the Indo-Chinese relationship is improving."
In the Cold War days, Moscow could rely on New Delhi as a major customer for its arms. Russian Defense Minister Sergei Ivanov is working hard to preserve that situation in the face of rising competition from countries like the United States, France, and Israel.
'New Quality' Of Cooperation
Ivanov arrived in the Indian capital ahead of Putin, and he has signed or discussed deals on an impressive list of projects. They include the joint production of an advanced fighter jet, the joint development of a transport plane, the supply of MiG-29 engines, plus tanks and the development of improved cruise missiles.
Ivanov, as quoted by ITAR-Tass today, acknowledges that the Indo-Russian relationship is changing. He says the two countries are moving to what he calls a "new quality of military technical cooperation, from the relations of buyer-seller to scientific and production cooperation."
But the trouble is that India's demands might exceed Russian expertise.
"India is interested in the most advanced technologies, both civil and military, and Russian technologies are not so advanced -- many are inherited from the Soviet days," Fedorov says.
Another topic of Putin's talks with Indian leaders will be civilian nuclear power. Russia is already building two nuclear power plants in India, and Ivanov has said he hopes to sign a contract for more reactors during the present trip.
Putin referred to that at a press conference today.
"We consider extremely important the accomplishment of the project on the construction of the Indian nuclear power plant [in] Kudamkulam," Putin said. "We intend to further develop bilateral cooperation in the area of the peaceful use of nuclear energy."
But the United States recently ended its embargo on selling nuclear equipment to India, and President George W. Bush says the United States is willing to supply advanced equipment to India.
This major policy switch by Washington shows the importance the United States attaches to developing a strategic relationship with New Delhi, as a counterweight to China's growing political and economic clout in Asia and the world.
Putin has other cards in hand, namely Russia's support for India's application for a permanent seat on the UN Security Council. Moscow, a veto-wielding member of the Security Council, has promised that if that body is expanded, it will back India's ambitions. Other permanent members are the United States, China, Britain, and France.
There is also the possibility that Moscow will invite Indian investors to become involved in exploitation of the vast oil and gas fields in Russia's Far East region of Sakhalin.
Russian Arms Exports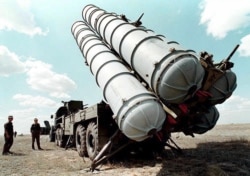 Russia's advanced S-300 air-defense system (epa file photo)

BOOM TIMES: In 2005, Russia sold more than $6 billion in weapons to more than 60 countries around the world. The state arms exporter says it has $17 billion in orders in hand....(more)
RELATED ARTICLES
Putin Pushes Greater Arms Exports
Energy, Weapons Bring Moscow Closer To Algiers
Will Russia's Oil Windfall Go To Military?
Putin Stresses Need For Strong Military
ARCHIVE
RFE/RL
coverage of Russia
. RFE/RL web special on
U.S.-Russian relations
.
SUBSCRIBE
For news and analysis on Russia by e-mail,
subscribe to "RFE/RL Russia Report."