The document was signed by the heads of the Russian and Indian nuclear agencies after a meeting between Russian President Vladimir Putin and Indian Prime Minister Manmohan Singh in New Delhi today.
Russia is currently helping India build two nuclear reactors in the southern town of Kudankulam. The document signed today said the four new reactors would be built at Kudankulam and other sites. No timetable was specified.
"We consider extremely important the accomplishment of the project on the construction of the Indian nuclear power plant in Kudamkulam," Putin said. "We intend to further develop bilateral cooperation in the area of the peaceful use of nuclear energy."
Today's agreement comes after India last year signed a civilian nuclear-cooperation deal with the United States, which gives India long-denied access to U.S. nuclear technology and equipment.
Nuclear cooperation was among the most important issues on the agenda of Putin's January 25-26 visit to India.
(compiled from agency reports)
Nuclear Power's Resurgence
Nuclear Power's Resurgence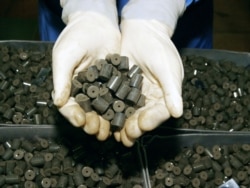 Nuclear-fuel pellets being produced in Kazakhstan (TASS)

LOOKING FOR ALTERNATIVES. Despite warnings from scientists, the world seems unable to stem its insatiable appetite for fossil fuels, which are producing the greenhouse gases blamed for global warming. And emissions are set to rise dramatically in the next few years. Is it time for the environmental movement to drop its opposition to nuclear power? (more)
RELATED ARTICLES
IAE Report Urges Governments To Embrace Nuclear Power
Russia's Nuclear Ambitions Heating Up
Moscow Seeks To Reignite Nuclear Power Industry
France Chosen To Host Experimental Fusion Reactor Project
China/India: Emerging Giants Look To Nuclear Power


Reports from an RFE/RL conference on energy-security issues.