Speaking at a Kremlin press conference on 31 January, Putin said that the share of nuclear energy generation should increase from the current 16-17 percent to 25 percent by 2030. The Russian president emphasized the research and development of so-called fast breeder reactors (FBR), which produce more fissile material than they consume. On 30 January, Sergei Kiriyenko, the head of the Federal Atomic Energy Agency, or RosAtom, announced that Russia would build in the next 15 years up to 40 new reactors just for domestic use at a cost of $60 billion.
Ambitious Plans
Russia's nuclear plans were formulated in a document drafted in December 2005 by the Moscow-based, pro-Kremlin World Development Institute. According to the institute's director, Yury Krupnov, Russia's Asian neighbors plan to increase their nuclear power output in the next 15 years. The report predicted that China is reportedly planning on building up to 30 new reactors, while India, Iran, South Korea, and potentially Indonesia are planning on increasing their nuclear-power capacity tenfold. That, Krupnov argued, gives Russia the opportunity to sell its FBRs on the Asian market.
Russia has already begun negotiating with Ukraine and Kazakhstan to restore a shared nuclear infrastructure that in Soviet times was supervised by the secretive Ministry of Medium Machine Building (Minsredmash), Prime-TASS reported.
New Energy Commission
The newly inaugurated Energy Commission will preside over the implementation of Russia's energy doctrine. The commission, chaired by Prime Minister Mikhail Fradkov, brings together high-ranking cabinet officials, business leaders, and energy lobbyists, including the Industry and Energy Minister Viktor Khristenko, Gazprom head Aleksei Miller, Unified Energy Systems chief Anatoly Chubais, and Yury Bornikov, who leads the economic security services within the Federal Security Service. The only major oil company not to be included in the new body is TNK-BP, because "it is controlled by foreign capital," according to "Izvestia" on 26 December.
The commission will deal with the exploration and energy "colonization" of eastern Siberia and its continental shelf. It is also responsible for selecting routes for new pipelines as well as setting taxes for energy companies.
Enter Kiriyenko
In the center of Putin's atomic energy ambitions is Kiriyenko, who was appointed to head RosAtom last November. Kiriyenko has been tasked with revitalizing Russia's decaying nuclear power industry, in particular ridding it of its rampant corruption.
Allegations of pervasive corruption go all the way to the top. Yevgeny Adamov, the Russian atomic energy minister between 1998 and 2001, was arrested in May 2005 in Switzerland for allegedly diverting up to $9 million of U.S. funds earmarked to improve Russian nuclear safety into personal projects in the United States, Ukraine, and Russia. Adamov was extradited in December 2005 to Russia, where he is also indicted him on charges of embezzling $17 million of Russian state funds.
Putin has also entrusted Kiriyenko, who previously was the presidential envoy to the Volga Federal District, with leading negotiations with Iran about the construction of a joint uranium-enrichment facility in Russia. And since his appointment, Kiriyenko has announced that RosAtom should not be privatized, but remain in state hands.
Most Russians, however, remember Kiriyenko for his brief term as prime minister in 1998, when Russia experienced its financial meltdown. Reflecting on this, a 4 February article on the nuclear scientists' website proatom.ru stated: "It was as easy to believe that communism will be built by 1980, as it was promised [by Soviet leader Nikita Khrushchev], as it is to believe that 40 new nuclear power stations will be built and Russia will become an energy superpower." Indeed, a lot of imagination may be needed to believe that Russia, which has built only eight nuclear reactors in the last 15 years, can increase this number fivefold in the next 15 years.
Russia's Nuclear Power Sector
Russia's Nuclear Power Sector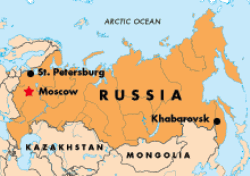 Click on the map to view the locations of Russia's civilian nuclear power plants.



POWER OF THE ATOM: As Russia's economy recovers from the collapse of the 1990s, the government is moving forward with plans to expand its nuclear-energy sector. Russia currently has 31 civilian nuclear-power reactors in operation, with the newest being Kalinin-3, which came on line in 2004. Nuclear power accounts for 16 percent of Russia's total power generation. Three additional reactors are currently under construction.
Many of Russia's reactors are quite old. In 2000, the government announced plans to extend the working lifetime of 12 first-generation reactors. So far, seven of these reactors have been upgraded for 15-year extensions and all 12 of them are expected to be replaced by 2020.
Russia controls about 4 percent of the world's known uranium deposits, producing some 2,900 tons of uranium in 2002. Russia has four operating uranium-enrichment plants, the largest of which is located at Novouralsk near Yekaterinburg.
The government has not yet approved a proposal for a permanent nuclear-waste storage facility on the Kola Peninsula.