Provincial police chief Ghanim al-Qureyshi said on January 28 that the officers fled rather than fight when Ba'qubah was attacked by insurgents in November 2006.
He also said Mayor Khalid al-Sinjari was suspected of collaborating with Sunni insurgents. Al-Qureyshi took over police operations in the volatile province northeast of Baghdad after his predecessor was sacked last month.
Meanwhile, British Defense Secretary Des Browne arrived in Baghdad for an unannounced visit on January 28.
The British Defense Ministry said Browne is scheduled to meet Iraqi Prime Minister Nuri al-Maliki and President Jalal Talabani to assess progress on the ground.
British forces have turned over to Iraqis security responsibility for two of the four southern provinces they controlled.
(AP, Reuters)
On The Verge Of Civil War
On The Verge Of Civil War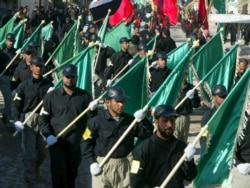 The Imam Al-Mahdi Army on parade (epa)
HAS THE CONFLICT IN IRAQ BECOME A CIVIL WAR? Many observers have concluded that the tit-for-tat sectarian violence that emerged after the February 2006 bombing of a mosque in Samarra has become a full-blown civil war.... (more)


RELATED ARTICLES
U.S. Media Starts Using 'Civil War' Label
Iraqi Prime Minister Under Fire From All Sides
U.S. Expert Discusses Prospects For Stabilization
President Says Iraq Needs Iran's Help
Saudi Arabia To Seal Off Border With Security Fence

THE COMPLETE PICTURE:
Click on the image to view RFE/RL's complete coverage of events in Iraq and that country's ongoing transition.