Chanting "Return elections to the people!" and "Down with the police state," some 100 demonstrators gathered outside the Kremlin on January 29 to protest the decision to bar the party from running in St. Petersburg's next Legislative Assembly elections, slated for March 11.
Russia's Central Election Commission ruled that nearly 12 percent of the signatures submitted in support of Yabloko's candidates are invalid -- more than the maximum 10 percent allowed.
Yabloko Cries Foul
The head of the party's St. Petersburg branch, Maksim Reznik, says the ban is revenge for Yabloko's consistent opposition to St. Petersburg Governor Valentina Matviyenko, a close ally of President Vladimir Putin.
In an interview with RFE/RL's Russian Service, Yabloko leader Grigory Yavlinsky accused both Matviyenko and the Kremlin of seeking to get rid of a vocal opponent.
MORE:
Read the interview
with Yabloko leader Grigory Yavlinsky in Russian, courtesy of RFE/RL's Russian Service.
"I think Valentina Ivanovna [Matviyenko] feels personal hostility toward Maksim Reznik, because he has been very active in St. Petersburg all these years in protesting a number of decisions linked to social and political issues," Yavlinsky said.

"For us, it's obvious that we have been gathering signatures for 14 years and it's never posed difficulties or problems."

Fighting A Pet Project

Yabloko deputy head Sergei Mitrokhin told Reuters that his party is also coming under fire for lobbying against a plan by state-run gas monopoly Gazprom to build a 300-meter tower in St. Petersburg, a city renowned for its classical architecture.

"Yabloko was Matviyenko's only political opponent in St. Petersburg," Mitrokhin said. "Our party's representatives in the [regional] legislative assembly voted against the appointment of Matviyenko as governor, Yabloko is fighting against the Gazprom City project which will damage the historic look of St. Petersburg, and that is why Yabloko has been barred from elections in St. Petersburg."

Future Strategy?

Political analysts say the ban could be part of a broader Kremlin campaign to sideline rivals ahead of key parliamentary elections in December 2007 and presidential elections in 2008.

Once a leading political force, Yabloko has lost most of its clout under Putin's tenure.

It has lost all seats in the State Duma, the lower house of parliament, which is now dominated by the pro-Kremlin Unified Russia party. But it has managed to retain seats in a number of local legislatures, including in St. Petersburg's Legislative Assembly.

The Communist Party was also banned from participating in local poll in the southern region of Daghestan, also due on March 11, over application technicalities. Its list of candidates, however, has since been restored to the ballot.
Russia's Democratic Development
Russia's Democratic Development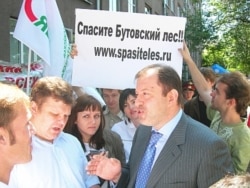 Demonstrators speak with local politicians in Butovo about the destruction of a local forest in July 2006 (RFE/RL)

IS RUSSIAN DEMOCRACY MANAGING? Russian President Vladimir Putin has said Western powers seek to pressure Russia under the pretext of concern over its democratic development. He has said Russia is ready to listen to "well-intentioned criticism," but will not allow anyone to interfere in its internal affairs. The Kremlin has been criticized for stifling political oppostion, increasing central control over the media, and cracking down on the work on nongovernmental organizations.
RELATED ARTICLES
Concerns Raised About Moscow Chairing Rights Committee
Using Racism Is A Time-Honored Kremlin Tool
Putin Comes Under Fire At Global Media Congress
Oligarch's Case A Sign Of The Times
'Letter Of 100' Warns That Putin Is Suppressing Democracy
A Hard-Line Agenda For Putin's Second Term
Book Says Putin's Russia Falls 'Between Democracy and Dictatorship'
NGOs Denounce Status Changes As Move To Curb Activities
Scrutiny Of Foreign Funds Hurts Democracy Programs
U.S. Official Says Russian NGO Law Part Of Antidemocratic Trend

SUBSCRIBE
For news and analysis on Russia by e-mail,
subscribe to "RFE/RL Russia Report."