Activists Say 2,000 Street Children In Moscow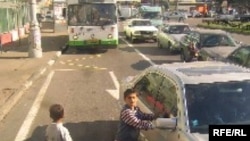 Tajik street children in Moscow (RFE/RL) January 30, 2007 -- Medecins Sans Frontieres says about 2,000 children live on Moscow's streets and tens of thousands of others are homeless across Russia.
But the aid group said the problem was less grave than three years ago, partly because Moscow city authorities had opened more orphanages.
The group said 80 percent of Moscow's homeless children had come from Russia's provincial regions.
(AFP)