Vyacheslav Kovalenko was speaking to reporters after presenting his credentials to President Mikheil Saakashvili today.
He also said that recent Georgian reports about uranium smuggling by a Russian national were based on "distorted information."
"We have recently seen deliberately distorted information with an openly anti-Russian subtext about uranium allegedly smuggled from Russia [into Georgia]," Kovalenko said. "I consider such attacks on Russia unacceptable and, of course, this does not help in creating conditions for resolving pressing issues in Russian-Georgian relations."
Kovalenko returned to Tbilisi last week, four months after he was recalled by Moscow amid a spying row.
(Reuters, ITAR-TASS)
Russian Sanctions On Georgia
Russian Sanctions On Georgia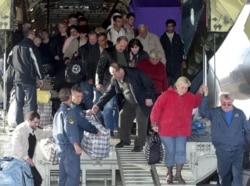 Georgian deportees arriving in Tbilisi on October 6 (epa)
RUSSIA DEPORTING GEORGIANS. Despite Georgia's release of four military officers accused of spying on October 2, Russia has continued its transport and postal blockade of Georgia, and has also deported hundreds of Georgians.... (more)
RELATED ARTICLES
Council Of Europe Head 'Concerned' About Reports Of Russian Sanctions
'No Time To Send Ambiguous Messages'
Ethnic Russians Feel Insulated From Tensions
Explaining West's Muted Response To Crisis
MORE: Coverage of the situation in Georgian from RFE/RL's Georgian Service and in Russian from RFE/RL's Russian Service.
ARCHIVE
RFE/RL's English-language coverage of
Georgia
and
Russia
.