Or not -- if the NATO-led International Security Assistance Force (ISAF) has its way in Kandahar and Helmand provinces.
NATO troops in southern Afghanistan are harrying Taliban-led insurgents in the hope of preempting such a spring offensive.
NATO officials in Kabul and Kandahar have discounted the Taliban's ability to mount large-scale attacks this spring following ISAF operations against insurgents massed in Kandahar Province in September and December. More than 1,500 insurgents were reported killed in those operations.
Officers who face the threat on a daily basis concur. But they also stress that the situation remains complex and the enemy elusive.
Colonel Ian Huntley is the deputy British commander with the ISAF provincial reconstruction team (PRT) in Helmand's provincial capital, Lashkar Gah.
"There is talk of an uprising; I personally don't think that's likely."
"What we have done is to keep up the pressure on the Taliban over the winter," Huntley says. "There are signs that they are in trouble. How much they can regenerate in the spring I think is difficult to say. There is talk of an uprising; I personally don't think that's likely."
Huntley concedes that the country will never be "utterly safe" from violence. But he thinks violence can be minimized through reconstruction work -- reducing discontent among the local population.
Threats Remain
An NATO officer at Kandahar air base says the main Taliban threat in southern Afghanistan is to major highways -- where attacks on NATO convoys are frequent -- and a number of longstanding flashpoints.
Those vulnerable places include the Sangin Valley in northern Helmand, Lashkar Gah, Kandahar City, Zabul Province in the north, Gorak, Maywand in Kandahar, the southern Oruzgan Province, and border-crossing points into Pakistan like Spin Baldak and Baram Cha.
Military planners see two main Taliban infiltration routes into Afghanistan from Pakistan. One arches across mountainous areas in the provinces of Zabul and Oruzgan, reaching the northern part of Helmand. The other cuts across desert wastelands in southern Helmand and Kandahar.
A NATO source says ISAF is able to marshal about 1,000 troops in each of the southern provinces, while the Afghan National Army can field another 1,000 soldiers.
But the source warns that there appears to be growing sophistication among insurgents, citing an improvised explosive device (IED) attack in the fall of 2006. He says a 107-millimeter Chinese rocket was planted atop an antitank mine, and both were sunken into a road. The device ruptured the base of a specially adapted RG31 armored vehicle, killing its gunner. The NATO officer says insurgents are also adept at firing rockets from primitive launch pads -- often limited to a small number of strategically positioned rocks.
A British squadron leader in Helmand, Kevin Parker, suggests that Taliban fighters are becoming "more technologically aware" in their attacks.
'Constant Attrition'
Huntley says that NATO troops in Helmand -- from Britain, Denmark, and Estonia -- are engaged in what he calls "constant attrition" against Taliban fighters. NATO's focus in the province is on the Sangin Valley -- through which the Helmand River runs, between the northern Kajaki Dam and Lashkar Gah. The United States is in the process of rebuilding a hydroelectric power plant at Kajaki that could provide electricity for nearly 2 million people. The government in Kabul is expected to declare the area between Kajaki and Lashkar Gah an "Afghan Development Zone."
NATO has set up several permanent "forward operations bases" in the north of Helmand Province, and also operates "mobile operations groups" that travel constantly in search of insurgents.
Commanders in the area warn that the Taliban remain elusive enemies. Most -- like one of the leaders of the Danish contingent in Helmand, Major Hans Lundsgaard -- think that genuine Taliban devotees are few in number.
"There's only a few of them who are hard-core Taliban," Lundsgaard says. "And the other [fighters], a lot of insurgents are just insurgents because the Taliban are paying them and there are no other things [for them] to do. If we gave them an alternative, they'd just change over and [tend] to support the strongest [side]. If we were stronger than the Taliban, [local insurgents] would support us instead."
Colonel Huntley suggests that some Afghans might be watching to "see who's winning" before they commit to either side.
Most of the commanders interviewed by RFE/RL in Helmand and Kandahar argue that NATO should aggressively pursue insurgents, rather than respond to militants' attacks.
Test Bed
NATO appears to have opted to place some of its trust in local elders.
British squadron leader Parker notes that a deal between local elders and the government in Kabul helped break a prolonged standoff between British forces and Taliban fighters in mid-2006.
"The idea was that it would be the elders that would try to negotiate, if you like, with the Taliban and say, 'No, we're in charge here, we're in control, we will run the district of Musa Qala ourselves,' without [ISAF] influence," Parker says. "Now if you think of the future for Afghanistan, you know [that] at some time in the future, we will leave. And it will be, 'Afganistan is for the Afghan people.' So, if you like, you can think of this as a sort of test bed."
Under the Musa Qala deal, NATO troops monitor the surrounding area but do not enter the district.
Critics call the Musa Qala deal a concession to insurgents to extricate British troops. But British commanders insist it was a purely Afghan arrangement. And they say Helmand's new governor wants to strike similar deals for the rest of the province -- nine districts in all.
A NATO source notes that the rebuilding effort so far in Musa Qala has been limited to the rebuilding of four mosques.
British military sources in Helmand say that plans are being drawn up for a new school there. In the words of one official, the British presence is content to provide "what the Afghan people want."
The Afghan Insurgency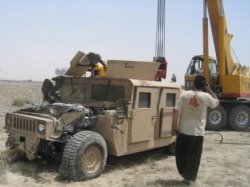 A U.S. military vehicle damaged by insurgents near Kandahar (epa)
HOMEGROWN OR IMPORTED? As attacks against Afghan and international forces continue relentlessly, RFE/RL hosted a briefing to discuss the nature of the Afghan insurgency. The discussion featured Marvin Weinbaum, professor emeritus of political science at the University of Illinois at Urbana-Champaign, and RFE/RL Afghanistan analyst Amin Tarzi.
LISTEN
Listen to the entire briefing (about 83 minutes):
Real Audio
Windows Media
ARCHIVE
RFE/RL's
coverage of Afghanistan
.
SUBSCRIBE
For weekly news and analysis on Afghanistan by e-mail,
subscribe to "RFE/RL Afghanistan Report."