RFE/RL: There have been recent reports alleging increased Iranian efforts to influence events in western Afghanistan, in addition to other Iranian activities there. You have in the past very positively assessed Afghanistan's ties with Iran. Are concerns about Iranian interference in Afghanistan baseless?
Rangin Dadfar Spanta: I first have to say in this regard that the president [Hamid Karzai], as the head of the Afghan government, and I, as the minister of foreign affairs, are in total agreement over relations with Iran. The main lines of these policies have been decided jointly. We believe that Afghanistan should not do anything that could threaten [our] national interests. We are thankful to Iran for its help in creating security in Afghanistan and also for strengthening government bodies. And they are continuing their help. We'd like to strengthen our relations with the Islamic Republic of Iran.
RFE/RL: In a recent interview with Radio Free Afghanistan, a [former] senior official from one of Afghanistan's southwestern areas claimed Iranian interference in Afghanistan. He even said a number of displaced person who live in the Shamsabad region of Farah Province [in Afghanistan] are being goaded by the Iranian government against Afghanistan. A senior government official presumably can't make such accusations about a neighboring country without proof. What is your reaction to this?
Spanta: I [articulate] the foreign policy of Afghanistan, and I think I am competent to speak about this. The national interests of Afghanistan are important for us, and in this regard the Islamic Republic of Iran has supported the government of Afghanistan in order to strengthen it; we don't have any documents or reasons that prove the contrary. Moreover, let's not forget that Iran benefited enormously from the fall of the Taliban [in 2001] because one of its main enemies, the Taliban, was ousted from Afghanistan. In Afghanistan's multilateral policy, strengthening ties with Iran is a primary aim, regardless of the two countries' different political structures or ideology.
RFE/RL: The Afghan government has accused Pakistan of interfering in Afghan affairs and has also accused some groups in Pakistan of supporting terrorist groups. At the same time, Pakistan has come under pressure lately from the United States and NATO. Do you think this pressure will have a positive result and Pakistan will give up its [alleged] support for militants?
Spanta: We hope that Pakistani leaders -- and especially the ISI [Inter-Service Intelligence agency] will know that Afghanistan wants friendship with Pakistan. We are ready to resolve any differences with Pakistan through talks. We'd like to give Pakistan the opportunity to invest in Afghanistan, to use Afghanistan's roads. Central Asian energy could be transported through Afghanistan and Pakistan -- our economic exchanges could increase. We are ready for all of this, but the precondition for this deep friendship with Pakistan is that they should stop using terrorism as a tool of foreign policy.
RFE/RL: Pakistan has always rejected those allegations. But another issue is being brought forward now -- the issue of a regional security jirga [council meeting]. Afghanistan has taken some steps in this regard, but Pakistan does not appear to have made any concrete steps -- or maybe it's more correct to say that Pakistan has moved slowly. In your opinion, why hasn't Pakistan taken serious steps in this regard?
Spanta: We want to demonstrate our good will. The president is always ready to organize regional-security jirgas by Afghanistan. He has named a commission to organize jirgas. We believe the people of Afghanistan and Pakistan have a right to sit and talk to each other about the reasons for terrorism and its sources. So far, the efforts between [our] governments haven't produced any results. We will continue this work. The results of the meeting are not important; what is important is that the representatives of two nations will have the opportunity to talk to each other.
Afghanistan And Pakistan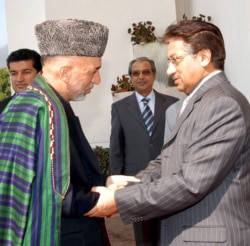 Afghan President Hamid Karzai (left) with Pakistani President Pervez Musharraf in Islamabad in October 2005 (epa)

ACROSS A DIFFICULT BORDER. The contested border between Pakistan and Afghanistan is some 2,500 kilometers long and runs through some of the most rugged, inhospitable territory on Earth. Controlling that border and preventing Taliban militants from using Pakistan as a staging ground for attacks in Afghanistan is an essential part of the U.S.-led international coalition's strategy for stabilizing Afghanistan. Officials in Kabul have been pointing their fingers at Pakistan for some time, accusing Islamabad or intelligence services of turning a blind eye to cross-border terrorism targeting the Afghan central government. Many observers remain convinced that much of the former Taliban regime's leadership -- along with leaders of Al-Qaeda -- are operating in the lawless Afghan-Pakistani border region.... (more)
RELATED ARTICLES
Pakistan-Afghanistan Conflicts Continue
Karzai, Musharraf Spar Ahead Of Bush Meeting
Musharraf Says Taliban Could Spark Pashtun 'National War'
Afghan Minister Attacks Pakistani Support For 'Terrorism'
Historical Context Of Afghan-Pakistani Relations
Afghanistan/Pakistan: 'Inseparable Twins' In Need Of Separation
ARCHIVE
RFE/RL
coverage of Afghanistan
. RFE/RL
coverage of Pakistan
.
SUBSCRIBE
For weekly news and analysis on Afghanistan by e-mail,
subscribe to "RFE/RL Afghanistan Report."