Lawyers for both men say that prosecutors in the Siberian city of Chita have charged their clients with embezzlement and money laundering.
Khodorkovsky, the former head of the now bankrupt oil giant Yukos, and Lebedev, the head of the company's financial arm, are currently serving eight-year sentences for fraud and tax evasion.
"There are still some assets that have not yet been reached by the dirty thieving hand," Yury Schmidt, a lawyer for Khodorkovsky, told RFE/RL. "The aim of this new case against Khodorkovsky is probably to get hold of those assets and take everything -- although Khodorkovsky doesn't own anything anymore, while Yukos still owns something -- everything to the last cent."
Since bankruptcy, most of Yukos's assets have been sold off.
The company's main production arm was acquired in an auction by the state-controlled oil giant Rosneft.
(with material from Interfax)
Russia's Democratic Development
Russia's Democratic Development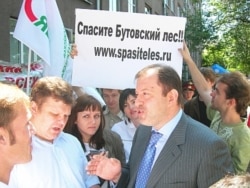 Demonstrators speak with local politicians in Butovo about the destruction of a local forest in July 2006 (RFE/RL)

IS RUSSIAN DEMOCRACY MANAGING? Russian President Vladimir Putin has said Western powers seek to pressure Russia under the pretext of concern over its democratic development. He has said Russia is ready to listen to "well-intentioned criticism," but will not allow anyone to interfere in its internal affairs. The Kremlin has been criticized for stifling political oppostion, increasing central control over the media, and cracking down on the work on nongovernmental organizations.
RELATED ARTICLES
Concerns Raised About Moscow Chairing Rights Committee
Using Racism Is A Time-Honored Kremlin Tool
Putin Comes Under Fire At Global Media Congress
Oligarch's Case A Sign Of The Times
'Letter Of 100' Warns That Putin Is Suppressing Democracy
A Hard-Line Agenda For Putin's Second Term
Book Says Putin's Russia Falls 'Between Democracy and Dictatorship'
NGOs Denounce Status Changes As Move To Curb Activities
Scrutiny Of Foreign Funds Hurts Democracy Programs
U.S. Official Says Russian NGO Law Part Of Antidemocratic Trend

SUBSCRIBE
For news and analysis on Russia by e-mail,
subscribe to "RFE/RL Russia Report."