EU Deputies Urge New Trial For Khodorkovsky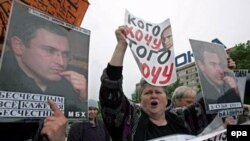 Demonstrators in Moscow call for Khodorkovsky's release on May 31 (epa) BRUSSELS, July 13 (RFE/RL) -- More than 100 members of the European Parliament have signed an open letter to Russian President Vladimir Putin, urging him to give jailed former tycoon Mikhail Khodorkovsky a new, fair trial.
The letter says Khodorkovsky is a political prisoner and that Putin is personally responsible for his survival.
The signatories include the head of the parliament's largest faction, the European People's Party.
The authors say the letter is timed to coincide with the G8 summit in St. Petersburg on July 15-17 and has been sent to all participating leaders.
MORE: To read more about this topic from RFE/RL's Russian Service in Russian, click here.

SUBSCRIBE For news and analysis on Russia by e-mail,
subscribe to "RFE/RL Russia Report."