Khodorkovsky Placed In Solitary Confinement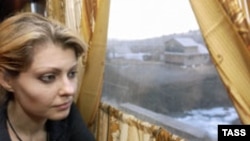 Inna Khodorkovskaya traveling to Chita, near the Chinese border, to visit her husband, Mikhail, in prison (file photo) (ITAR-TASS) June 5, 2006 -- The jailed former head of the Russian oil company Yukos, Mikhail Khodorkovsky, was on June 3 placed in solitary confinement for 10 days, his lawyer says.
Denis Diatlev says prison officials accused Khodorkovsky of breaking prison restrictions on food and personal items. Diatlev dismissed the claim as an excuse.
Khodorkovsky, once Russia's richest man, is serving eight years for financial crimes.
(AP, AFP)