Lawyer Says Khodorkovsky Attacked In Prison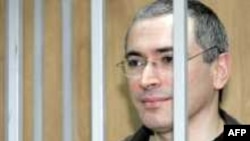 Mikhail Khodorkovsky in court (file photo) (AFP) April 15, 2006 -- The lawyer of Mikhail Khodorkovsky says the jailed former head of the oil company Yukos has been wounded after another prisoner attacked him with a handmade knife.
Lawyer Yury Schmidt said Khodorkovsky was hospitalized and had stitches. The attack occurred overnight on April 13-14.
The Federal Prison Service has played down the incident. It said preliminary information indicated Khodorkovsky had suffered scratches to his nose during an argument with a fellow convict.
Khodorkovsky is serving an eight-year sentence in a Siberian prison camp for tax evasion and fraud.
The trial against him was widely seen as punishment for his political ambitions.
(Interfax, AP)