Reports say more than 500 families have fled to nearby districts of Helmand Province since a concentrated force of militants seized Musa Qala on February 1.
The militants overwhelmed a weak Afghan police force in the town and disbanded the town's council of tribal elders.
NATO says it launched an air strike near Musa Qala on February 4 that killed Abdul Ghafour, a senior Taliban commander believed to have led last week's attack.
The Afghan National Army's commander for the region, General Rahmatullah Raufi, says Ghafour's death has weakened the militants. But he says scores of Taliban fighters are still thought to be in the area.
The attack on Musa Qala occurred in springlike conditions -- the first attack by a large group of Taliban fighters this year since warmer temperatures began.
(with material from AFP)
The Afghan Insurgency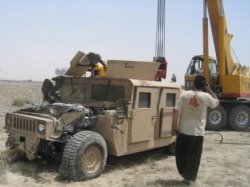 A U.S. military vehicle damaged by insurgents near Kandahar (epa)
HOMEGROWN OR IMPORTED? As attacks against Afghan and international forces continue relentlessly, RFE/RL hosted a briefing to discuss the nature of the Afghan insurgency. The discussion featured Marvin Weinbaum, professor emeritus of political science at the University of Illinois at Urbana-Champaign, and RFE/RL Afghanistan analyst Amin Tarzi.
LISTEN
Listen to the entire briefing (about 83 minutes):
Real Audio
Windows Media
ARCHIVE
RFE/RL's
coverage of Afghanistan
.
SUBSCRIBE
For weekly news and analysis on Afghanistan by e-mail,
subscribe to "RFE/RL Afghanistan Report."