But last month, the deadly strain of avian influenza was found in geese in Hungary. And now an outbreak at a turkey farm in Britain has led to the slaughter there of more than 150,000 birds over the past few days.
"It could have been from a wild bird that somehow managed to get viral particles -- maybe through feces -- through the ventilation system into the unit," says Clifford Warwick, the director of the Bioveterinary Group.
"It could have been a person [carrying] biological detritus on him or her," he adds. "It could have been an individual who has perhaps visited a parrot show and then taken the virus with him back to his home, and then somebody else again acts as an intermediary."
Global Pandemic Feared
It's still a disease that affects primarily birds, but bird flu has also killed at least 165 people worldwide since 2003, most of them in Asia.
And scientists worry that it could yet mutate into a form that is easily transmitted from person to person, causing a global pandemic.
On February 4, David Nabarro, the UN's bird-flu envoy, said the world should prepare for more outbreaks in the next few months, most of them spread by migrating birds.
But European officials are urging vigilance, not panic.
"This is a primarily a poultry-related disease," European Commission spokeswoman Helen Kearns says. "The risk to public health is very low. We have been working with the United Kingdom and other EU member states extensively in recent years to put in place the contingency plans to deal with exactly this kind of outbreak.
"In 2006, we had 14 examples of outbreaks in other member states, and our experience has been positive in terms of managing to control the spread of the disease. We hope that will be the case with the U.K."
Still, other European countries are on alert following the British scare. The Netherlands announced extra protective measures, and France is assessing the risk to its poultry flocks.
EU experts are expected to discuss the outbreak on February 6.
Interview With UN FAO's Erwin Northoff
Interview With UN FAO's Erwin Northoff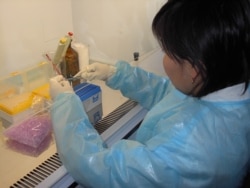 An expert at the National Virology Laboratory of the Kyrgyz Health Ministry (courtesy photo)
GETTING READY: Many have expressed concern about the ability of Central Asian countries to come to grips with a possible bird-flu outbreak. RFE/RL Turkmen Service correspondent Muhammad Tahir spoke with Erwin Northoff, news coordinator for the UN's Food and Agriculture Organization (FAO), about the issue. ....(more)