Bird Flu: Progress Reported Toward Widely Useable Vaccine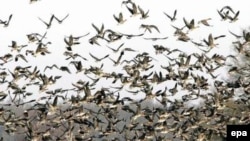 (epa) WASHINGTON, September 7, 2006 (RFE/RL) -- With concerns as great as ever about a possible bird-flu pandemic, Chinese researchers have developed an avian-influenza vaccine that can be produced in much larger quantities than other trial vaccines so far.
A group of Chinese researchers published a study today in the British medical journal "The Lancet" describing their success in producing a vaccine for the H5N1 strain of the virus that is effective in low doses.
The Chinese were able to immunize volunteers with just 10 micrograms of the avian-flu virus. The dosage was combined with an additive that enhances the human immune response.
"The number of human cases which are occurring is not decreasing, if anything, it is sort of static or slowly rising."
The small dose of vaccine stimulated a response containing 78 percent protective antibodies. That is well above the European Union's minimum requirement of 70 percent considered necessary for an effective vaccine.
'Very Important' Advance
The advance is significant because until now avian-flu vaccines have only been effective on test patients at high doses. In a previous study done in the United States, 90 micrograms -- nine times more than the Chinese dosage -- were required.
Iain Stephenson of the Infectious Diseases Unit at Britain's Leicester Royal Infirmary says this means much larger numbers of people could be protected in the crucial first six months after the start of a pandemic.
He calculates that about 450 million people could be immunized using the Chinese method with the world's current vaccine-production capacity.
That is still just a small percentage of the world's total population of over 6 billion people. Still, infectious-disease experts call the progress "very important."
"That is a big deal," says Andrew T. Pavia, a professor of pediatrics and medicine at the University of Utah. "Even with this [vaccine], we don't have the capacity in the world to produce all the vaccine the world would need, but a ninefold increase is still very, very important."
Many Hurdles Remain
But Pavia says that for the world community to be able to prevent a "great deal of mortality" in the event of a pandemic, scientists and industry will still need another three or four years of preparation time.
Numerous manufacturing and regulatory hurdles exist to producing the Chinese vaccine. Manufacturing processes would need to be changed. Government regulators would have to approve the changes.
And, there is still the need to convince companies that could produce the avian-flu vaccine to do so despite the possibility that a pandemic may never break out.
"There are commercial uncertainties," Stephenson of the Royal Infirmary says. "Why should vaccine companies do all of this when in the end of the day nothing may happen?"
Number Of Cases Rising
The deadly H5N1 strain of the virus has so far not mutated into a form that could be easily transmitted between people and it remains uncertain if it ever will.
Still, as researchers race to develop a widely useable, generic vaccine, cases of bird flu among humans continue to grow. And that continues to alarm disease experts.
"There have been major outbreaks again in a number of countries in Southeast Asia and Egypt," Stephenson notes. "There have been an increasing number of human cases in Indonesia. In fact, there have been more cases in 2006 already -- up until now -- than there were in the whole of 2005. The number of human cases which are occurring is not decreasing, if anything, it is sort of static or slowly rising."
Disease expert Pavia says the end of summer in Europe may herald new outbreaks of bird flu. "In the last two years, activity has picked up in the fall and the winter with greater spread among birds and new outbreaks among people," he adds.
He notes that the more cases of bird flu there are among humans, the greater is the chance that a strain of the disease that would allow human-to-human transmission will develop.
Interview With UN FAO's Erwin Northoff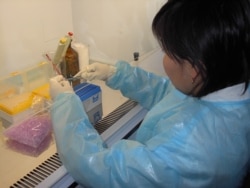 An expert at the National Virology Laboratory of the Kyrgyz Health Ministry (courtesy photo)
GETTING READY: Many have expressed concern about the ability of Central Asian countries to come to grips with a possible bird-flu outbreak. RFE/RL Turkmen Service correspondent Muhammad Tahir spoke with Erwin Northoff, news coordinator for the UN's Food and Agriculture Organization (FAO), about the issue. ....(more)