Results from a European Union laboratory in Britain confirmed that two swans found at a lake in central Bosnia-Herzegovina carried the deadly H5N1 strain of the bird-flu virus.
The head of the Bosnian Veterinarian Institute, Jozo Bagaric, announced the news in Sarajevo.
"Results from the reference laboratory in Weybridge, [England] were positive." he said. "The virus, H5N1, was identified, which confirms the positive result we had in our reference laboratory at the Veterinary Faculty in Sarajevo."
Several cases of the H5N1 bird-flu virus have been detected in the West African nation of Niger, the third African country to be affected by the disease.
Pakistan says it has also detected bird flu in the country's northwest border region with Afghanistan.
Officials in Georgia's semiautonomous region of Adjaria have begun implementing safety measures in an effort to prevent the possible spread of avian flu from birds to humans.
Meanwhile, international veterinary experts have gathered in Paris today to discuss the fight against bird flu. The Director-General of the World Organization for Animal Health, Bernard Vallat, warned that bird flu is transforming from "epidemic to pandemic."
(compiled from agency reports)

Interview With UN FAO's Erwin Northoff
Interview With UN FAO's Erwin Northoff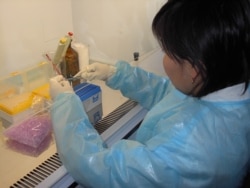 An expert at the National Virology Laboratory of the Kyrgyz Health Ministry (courtesy photo)
GETTING READY: Many have expressed concern about the ability of Central Asian countries to come to grips with a possible bird-flu outbreak. RFE/RL Turkmen Service correspondent Muhammad Tahir spoke with Erwin Northoff, news coordinator for the UN's Food and Agriculture Organization (FAO), about the issue. ....(more)