RFE/RL: The bird-flu virus continues to spread, with, most recently, over 100 outbreaks recorded among poultry in Romania and concern about possible human-to-human transmission in Indonesia, where seven people have recently died of the disease. What are the main topics experts are discussing at the Rome conference?
"Internally, within a country, or in a small region, the maximum risk is due to trade."
Joseph Domenech: The main issues are to know if [migratory birds] play a big or minor role compared with trade and other means [of spreading the virus]. And, also, to know if [wild birds] could become permanent or at least long-term reservoirs of the virus. And we will try to identify the [information] gaps still missing to understand exactly what is going to happen.
RFE/RL: Are there any clear indications that wild birds are the main culprits for the rapid spread of the bird-flu virus from Southeast Asia all the way across such a huge stretch of land?
Domenech: The very quick expansion of the virus from Southeast Asia to northern Asia, Siberia, the Middle East, Eastern Europe, Western Europe is definitely due to wild birds, essentially. And you can see, in Western Europe, it's only wild birds. The very few cases of farms being infected, they were infected from wild birds.
RFE/RL: On occasion, there have been intervals of several months between cases found in wild birds, such as those in the Danube delta, and the actual outbreak of the virus in domestic birds.
Domenech: Its long-distance introduction may be due to wild birds in some cases, and due to trade -- or illegal trade -- in other cases. But, internally, within a country, or in a small region, the maximum risk is due to trade.
The Public's Overheated Reaction
RFE/RL: In some situations, the public reaction to such outbreaks, however limited, tends to be exaggerated, mainly because of a lack of proper information about the danger the H5N1 strain of the virus poses to humans. Alternately, officials are either being accused of complacency or overreaction.
Domenech: Sometimes, there is overreaction from the administration, but it is not very frequent. On the contrary, what is very frequent is the overreaction of consumers, the population. In terms of communication, there is a lot of work to do, because it's really not normal to see suddenly half of the population stopping eating eggs or chicken. There is no reason for that when there is no disease or when the disease is very limited to a few places and completely under control.
RFE/RL: In Western Europe, preventing the virus from spreading in the domestic bird population was easier, because poultry is being raised in specialized farms. But in Eastern Europe, in countries such as Romania, Ukraine, or Russia, people keep poultry in their own backyard, sometimes even in big cities, and neither the sanitary conditions, nor the control the authorities have over such areas, is adequate.
Domenech: When you are referring to some countries of Central or Eastern Europe, the veterinary services are essentially not at the same level with Western Europe, but they are improving a lot very quickly, and [improving] their capacity to respond. They have to be helped more efficiently, and they have to decide that they should put more staff on this, and [increase] budgets to prevent animal disease.
Affected Areas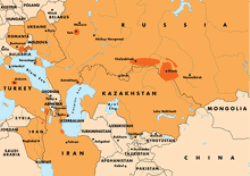 Click on the map for a closer view of the areas within RFE/RL's broadcast region where cases of diseased fowl have been confirmed. Last updated on February 20.


BIRD FLU, or avian influenza, continues to menace scattered areas from East Asia, where the disease first appeared, to Southeastern and Eastern Europe and beyond. Authorities around the world are bracing themselves -- and, more importantly, planning and taking measures to fight the disease wherever it appears.
Stories Of Particular Interest:
Bird-Flu Expert Discusses Issue Of Migratory Birds
Bird Flu: As European Worries Grow, Some See Benefits In Alarm