Russians Join Bird-Flu Vaccine Test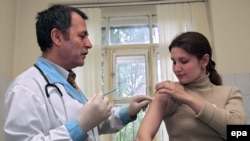 One of the volunteers in the Mechnikov tests receives an injection (epa) May 30, 2006 -- A research institute in Russia says it has begun testing a bird-flu vaccine for humans.
The director of the Mechnikov Virology and Epidemiology Research Institute, Vitaly Zverev, says a total of 240 volunteers between the ages of 18 and 55 will be involved.
The subjects will not be hospitalized during the tests, which are expected to end by mid-August.
(Interfax, ITAR-TASS)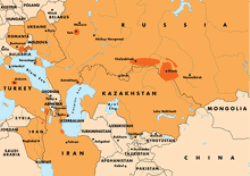 Click on the map for a closer view of the areas within RFE/RL's broadcast region where cases of diseased fowl have been confirmed. Last updated on February 20.


BIRD FLU, or avian influenza, continues to menace scattered areas from East Asia, where the disease first appeared, to Southeastern and Eastern Europe and beyond. Authorities around the world are bracing themselves -- and, more importantly, planning and taking measures to fight the disease wherever it appears.
Stories Of Particular Interest:
Bird-Flu Expert Discusses Issue Of Migratory Birds
Bird Flu: As European Worries Grow, Some See Benefits In Alarm