Military spending represents the largest area of growth in Bush's 2008 budget proposal.
The budget, submitted February 5 to Congress, would boost the regular Pentagon budget by 11 percent. And it separately calls for an additional $142 billion to cover war costs in Iraq and Afghanistan.
That makes a total military budget request of $624.6 billion.
"Our priority is to protect the American people," Bush said on February 5. "And our priority is to make sure our troops have what it takes to do their jobs. And we also have got priorities of national parks, and education, and health care."
Here are some of the highlights of the proposed military spending: $9.7 billion to train Iraqi and Afghan security forces; for Afghanistan, an increase in funds from $968 million to more than $1 billion to help fund drug eradication and improve government operations; and, reflecting longer-term military priorities, some $12 billion toward adding 92,000 troops to the U.S. Army and Marines over the next five years.
There is also continued funding for major new weapons systems, including money for new-generation aircraft, submarines, and ships.
The total amount of the entire U.S. government budget request for 2008 is $2.9 trillion.
Now, the president's budget proposal begins a long process of examination in Congress, where legislators can approve or seek to amend it.
In early reaction, some members of the opposition Democratic Party said they consider Bush's budget fiscally irresponsible.
"The president's proposals, if adopted as presented, would take us right over the cliff into a chasm of debt," said Senate Budget Committee Chairman Kent Conrad (Democrat, North Dakota) on February 5.
The budget projects a deficit of $239 billion in 2008, compared to the record U.S. budget deficit of $413 billion in 2004.
Opposition Democrats are also likely to object that the budget proposal gives too little attention to education, transportation, and health-care programs.
That could mean a tough fight between the administration and Democratic leaders in Congress, who have vowed to rein in government spending.
The annual budget proposal is the first that Bush has submitted since the Democratic Party won control of both houses of the legislature from his Republican Party in November.
Afghanistan And Pakistan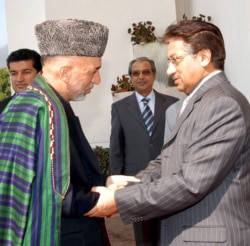 Afghan President Hamid Karzai (left) with Pakistani President Pervez Musharraf in Islamabad in October 2005 (epa)

ACROSS A DIFFICULT BORDER. The contested border between Pakistan and Afghanistan is some 2,500 kilometers long and runs through some of the most rugged, inhospitable territory on Earth. Controlling that border and preventing Taliban militants from using Pakistan as a staging ground for attacks in Afghanistan is an essential part of the U.S.-led international coalition's strategy for stabilizing Afghanistan. Officials in Kabul have been pointing their fingers at Pakistan for some time, accusing Islamabad or intelligence services of turning a blind eye to cross-border terrorism targeting the Afghan central government. Many observers remain convinced that much of the former Taliban regime's leadership -- along with leaders of Al-Qaeda -- are operating in the lawless Afghan-Pakistani border region.... (more)
RELATED ARTICLES
Pakistan-Afghanistan Conflicts Continue
Karzai, Musharraf Spar Ahead Of Bush Meeting
Musharraf Says Taliban Could Spark Pashtun 'National War'
Afghan Minister Attacks Pakistani Support For 'Terrorism'
Historical Context Of Afghan-Pakistani Relations
Afghanistan/Pakistan: 'Inseparable Twins' In Need Of Separation
ARCHIVE
RFE/RL
coverage of Afghanistan
. RFE/RL
coverage of Pakistan
.
SUBSCRIBE
For weekly news and analysis on Afghanistan by e-mail,
subscribe to "RFE/RL Afghanistan Report."