UNHCR Says Pakistan To Close Four Afghan Refugee Camps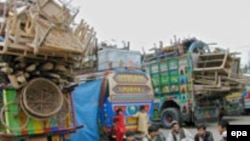 Afghan refugees departing Peshawar, Pakistan, for Afghanistan in March 2006 (epa) February 8, 2007 -- The UN refugee agency says Pakistan will close down four Afghan refugee camps by this summer in an effort to aid security in the border region.
The agency's representative in Pakistan, Guenet Guebre Christos, said "refugee camps must retain their civilian nature."
The agency said the 230,000 Afghans now living in those camps would have a choice of voluntary repatriation, or relocation to other camps in Pakistan.
Islamabad has said militants use the camps while moving to and from Afghanistan.
(AFP, unhcr.org)