Kazakh Opposition Remembers Slain Presidential Critic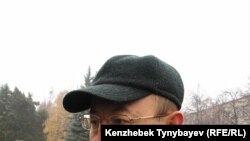 Sarsenbaev was abducted and killed one year ago (RFE/RL) ALMATY, February 10, 2007 (RFE/RL) -- Kazakh opposition leaders demanded a new probe into the killing of a prominent presidential critic one year ago, as up to 2,000 supporters rallied in his memory today in Almaty.
Altynbek Sarsenbaev, his driver, and a bodyguard were abducted in Almaty and their bullet-riddled bodies were later found dumped in the mountains.

A senior parliamentary official was convicted for masterminding Sarsenbaev's killing, but opposition groups and relatives accuse authorities of shielding the real perpetrators.
Among those they name President Nursultan Nazarbaev's son-in-law Rakhat Aliev, who was recently appointed Kazakhstan's ambassador to Vienna.

Trial Demanded
Gulzhan Yergalieva, editor of the Kazakh newspaper "Svoboda Slova" reiterated those accusations during today's rally.

"One [of the suspects] has been sent as an ambassador to a foreign country," Yergalieva said. "Another [suspect] has been sent to another country. These people were named among the suspects. We are against such actions. We demand a fair and honest trial."

Sarsenbaev was seen as potentially the strongest opposition challenger to President Nazarbaev.
(AP)