State television this morning broadcast Central Election Commission Chairman Murat Karryev announcing Berdymukhammedov's victory.
Karryev said Berdymukhammedov won the presidency with 89.23 percent of the vote.
The result was universally anticipated.
Inauguration Immediately Follows
The announcement was immediately followed by the inauguration ceremony at a session of the Halk Maslahaty (People's Council), the country's highest legislative body.
As nearly 2,500 members of the assembly and the heads of state or government from Russia, Afghanistan, Georgia, Kazakhstan, Tajikistan, Turkey, and Ukraine looked on, President-elect Berdymukhammedov stepped up to take the oath of office -- and to praise an election that few would argue was fair or remotely democratic.
"The Turkmen people and the whole world have seen that the competition among the candidates for presidency has been held open and confidently," said Berdymukhammedov.
The new Turkmen president begins his term under the immense shadow of former President Saparmurat Niyazov -- who was better known as "Turkmenbashi," or the head of all Turkmen.
Berdymukhammedov might not aspire to wield the power or generate the fear of Niyazov, but he appears to have inspired hope among Turkmen voters that he can rule more reasonably.
Berdymukhammedov has promised to continue along the path Niyazov set for the country. He also reassured countries with business interests in energy-rich Turkmenistan that previous contracts and deals will be honored.
Softening of Regime's Grip Possible
He also pledged during his campaign to restore the education system to what it was before Niyazov cut the term of mandatory study, reduced university enrollment, and made it all but impossible for Turkmen citizens to study abroad.
Berdymukhammedov also promised to restore the health-care system that was gutted by Niyazov, and he said he would reexamine pensions one year after his predecessor cut the number of eligible pensioners by some 100,000 people. Berdymukhammedov also promised the previously unthinkable in one of the world's most closed societies: easing access to the Internet.
Analysts caution that Berdymukhammedov cannot move too quickly -- or too far -- with any reforms. But they suggest that the new Turkmen leader could gain popularity simply by restoring to the public some of the basic services that Niyazov took away.

Turkmenistan's Presidential Election
Turkmenistan's Presidential Election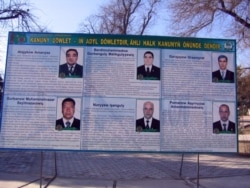 A billboard in Ashgabat with portraits of the candidates in the February 11 election (OSCE)


SIGNS OF CHANGE? Reporters Without Borders analyst Elsa Vidal and RFE/RL Kazakh Service Director Merkhat Sharipzhanov led an RFE/RL briefing in Prague about the significance -- or lack thereof -- of Turkmenistan's first-ever competitive presidential election.
LISTEN
Listen to the entire briefing (about 60 minutes):

Real Audio
Windows Media
RELATED ARTICLES
Could Presidential Vote Open New Chapter?
Sorting Out The Presidential Candidates
Presidential Campaign Reflects Latent Social Tensions
Campaign Opens With Surprising Promises Of Reform
ARCHIVE
RFE/RL's coverage of
Turkmenistan
.