Meetings with Prime Minister Nuri al-Maliki, who is a Shi'ite, President Jalal Talabani, who is a Kurd, and Vice President Tariq al-Hashimi, who is a Sunni, following her arrival for an unannounced visit.
Rice praised a joint U.S.-Iraqi security crackdown in the capital that began several days ago as "off to a good start."
"I want to say that we're very impressed with the leadership of the prime minister [Nuri al-Maliki] and his team," Rice said before the meetings. "Thus far we believe that they are clearly showing that this can be a new phase for the people of Iraq."
Rice is the highest-level U.S. official to visit Iraq since the start of the recent security operation in Baghdad.
U.S. and Iraqi forces sweeping through Baghdad are said to have encountered little resistance since launching the effort.
Al-Maliki reportedly told U.S. President George W. Bush by videolink on February 16 that the security operation has been a "brilliant success" so far.
With the situation somewhat calmer in recent days, Rice said it is important for the Iraqi authorities to use the "breathing space" that arises if militias "decide to stand down and stop killing innocent Iraqis" as a result of the security operation.
Rice said before today's meetings that she would urge Iraq's leaders to finalize an oil-revenue-sharing law and hold provincial elections.
Rice met with U.S. military and diplomatic officials ahead of her meetings with the Iraqi officials.
Militant Violence
Also today in Iraq, a double car bombing killed at least 10 people and wounded some 60 others in the northern city of Kirkuk.
The explosions occurred at a market in the Rahim Awa district, a predominantly Kurdish area in the ethnically mixed city. The blasts also damaged some 20 shops.
Iraqi security forces today reported finding 50 surface-to-air missiles in a weapons cache near Baghdad.
An Iraqi military spokesman said the weapons were Russian made and still usable.
The spokesman did not reveal the cache's exact location.
Seven U.S. military and private security helicopters have been shot down over the past month. The U.S. military has said "sophisticated weaponry" was probably responsible for one of the downings but that machine gun fireaccounted for the rest.
Rice Travels To Israel
Rice arrived in Israel later in the day, ahead of talks with Israeli and Palestinian officials aimed at reviving the peace process there. Rice was scheduled to meet with Israeli Foreign Minister Tzipi Livni.
On February 19, she is due to hold talks with Israeli Prime Minister Ehud Olmert and Palestinian President Mahmud Abbas.
Earlier today, Abbas said Washington must accept the coalition between his Fatah movement and the Islamic militant group Hamas.
An aide to Abbas said the Palestinian leader told U.S. envoy David Welch at talks in Ramallah that the power-sharing agreement with Hamas was necessary to end factional fighting.
Abbas acknowledged that it fell short of U.S. demands that the Palestinian government recognize Israel.
Debate In Washington
House Democrats were joined by a handful of their Republican colleagues on February 16 to back a nonbinding motion resolution to oppose President George W. Bush's deployment of extra troops in Iraq.
The Senate convened for a special Saturday session to consider whether to debate the measure, which is aimed at challenging White House plans and speeding the departure of U.S. troops nearly four years after the U.S.-led military invasion of Iraq began.
(Reuters, AFP)
Nuri al-Maliki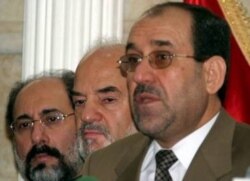 Nuri al-Maliki (epa)

NURI KAMIL AL-MALIKI (Jawad al-Maliki is a nom de guerre) was born in 1950 in the Twayrij al-Hindiyah district of Karbala.
Commonly known as Abu Isra, al-Maliki joined the Islamic Al-Da'wah Party in 1968.
He holds an M.A. in Koran and Arabic Language Studies from Salah al-Din University in Irbil.
Following a crackdown on outlawed parties by the regime of Saddam Hussien, al-Maliki fled the country in 1980, seeking asylum first in Iran and later in Syria.
While in Syria, he also published a magazine -- "Al-Mawqif" ("The Attitude") -- that became the mouthpiece of the Islamic Al-Da'wah Party.
For several years, al-Maliki served as the head of jihad and military operations for the party, subsequently becoming a member of its political bureau.
Following the liberation of Iraq, he served as deputy director of the de-Ba'athification commission established by the Coalition Provisional Authority.
In 2004, al-Maliki was elected deputy speaker of the interim National Assembly.
He played a leading role in settling the August 2004 crisis in Al-Najaf when supporters of Shi'ite cleric Muqtada al-Sadr battled coalition forces for three weeks.
In 2005, he served as chairman of the transitional National Assembly's Security and Defense Committee. He was also a member of the committe responsible for drafting Iraq's new constitution.
He has also served as a spokesman for transitional Prime Minister Ibrahim al-Ja'fari and as spokesman for the United Iraqi Alliance.
More about al-Maliki:
Premier-Designate Promises Tough Approach
Tough Challenges Face New Prime Minister


THE COMPLETE PICTURE: Click on the image to view RFE/RL's complete coverage of events in Iraq and that country's ongoing transition.