Tom Koenigs, the UN special representative to Afghanistan, told reporters that other states should look at Afghanistan's experience with the Taliban and realize it is not worth repeating.
Koenigs criticized recent remarks by Ali Muhammad Jan Aurakzai, the ethnic Pashtun governor of Pakistan's Northwest Frontier Province.
Aurakzai said last week that ethnic Pashtun support for Taliban fighters is becoming a kind of nationalist resistance -- a "liberation war" against coalition forces.
Koenigs also expressed concern about attempts to curb the media in Afghanistan. He noted reports of journalists being intimidated and the forced resignation of the head of national broadcaster Radio Television Afghanistan for reasons that have not been made clear.
He said parliament is also planning to amend the media law in a manner that will harm media development in Afghanistan. The proposed amendments follow complaints that the private media have become "un-Islamic."
(AP, AFP)
The Afghan Insurgency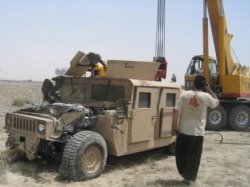 A U.S. military vehicle damaged by insurgents near Kandahar (epa)
HOMEGROWN OR IMPORTED? As attacks against Afghan and international forces continue relentlessly, RFE/RL hosted a briefing to discuss the nature of the Afghan insurgency. The discussion featured Marvin Weinbaum, professor emeritus of political science at the University of Illinois at Urbana-Champaign, and RFE/RL Afghanistan analyst Amin Tarzi.
LISTEN
Listen to the entire briefing (about 83 minutes):
Real Audio
Windows Media
ARCHIVE
RFE/RL's
coverage of Afghanistan
.
SUBSCRIBE
For weekly news and analysis on Afghanistan by e-mail,
subscribe to "RFE/RL Afghanistan Report."