Iran has denied Russian claims that Tehran has fallen behind on payments for work on the Bushehr plant in southern Iran.
Russian atomic energy officials have said the problem could delay the start-up of the plant.
Hadad Adel said Iran has fulfilled all its financial obligations and urged Russia to deliver the plant on time.
Last year, Russia agreed to ship fuel to Bushehr by March 2007 and launch the facility in September.
(dpa, IRNA)
What The Street Thinks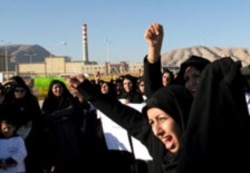 A demonstration in support of Iran's nuclear program outside the Isfahan uranium-conversion facility in Isfahan in January (epa)

IRANIANS SPEAK OUT ON THE DISPUTE: To find out more about what Iranians think about the international controversy over their country's nuclear program, RADIO FARDA asked listeners to express their views....(more)
See also:
Iran: Public Has Mixed Feelings On Nuclear Issue

THE COMPLETE PICTURE: RFE/RL's complete coverage of controversy surrounding Iran's nuclear program.
CHRONOLOGY
An annotated timeline of Iran's nuclear program.