The dead included women and children caught in the crossfire.
Al-Ramadi is the provincial capital of Al-Anbar Governorate, a Sunni-insurgent stronghold that has seen some of the fiercest fighting of the war.
Meanwhile, the chief U.S. military spokesman, General William Caldwell, said a raid on five buildings in Al-Fallujah uncovered three vehicle bombs and a store of chemicals.
Caldwell said he believed insurgents were preparing to mix the chemicals with the explosive devices, in an attempt to duplicate attacks earlier this week in which trucks carrying chlorine gas were blown up in civilian areas.
Despite the continuing violence, the Iraqi government today said it is ready to take over security responsibilities in southern Iraq as British troops withdraw.
Prime Minister Nuri al-Maliki's office made the statement a day after Britain announced it will reduce its troop levels in Iraq from 7,100 to 5,500 in the coming months.
Meanwhile, Romanian President Traian Basescu confirmed today that Romania will "maintain its commitments" in Iraq and "keep its word" to the United States, RFE/RL's Romania-Moldova Service reported.
"Romania must maintain its commitments, so my point of view is that Romania should keep the word it gave some time ago when we badly needed the Americans so we could be admitted into NATO," Basescu said.
There are currently 605 Romanian troops in Iraq, mostly in the south under British command.
(Reuters, AP)
On The Verge Of Civil War
On The Verge Of Civil War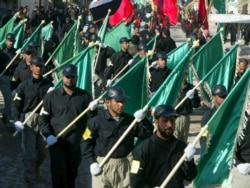 The Imam Al-Mahdi Army on parade (epa)
HAS THE CONFLICT IN IRAQ BECOME A CIVIL WAR? Many observers have concluded that the tit-for-tat sectarian violence that emerged after the February 2006 bombing of a mosque in Samarra has become a full-blown civil war.... (more)


RELATED ARTICLES
U.S. Media Starts Using 'Civil War' Label
Iraqi Prime Minister Under Fire From All Sides
U.S. Expert Discusses Prospects For Stabilization
President Says Iraq Needs Iran's Help
Saudi Arabia To Seal Off Border With Security Fence

THE COMPLETE PICTURE:
Click on the image to view RFE/RL's complete coverage of events in Iraq and that country's ongoing transition.