Dozens Dead After Suicide Bombing At Baghdad University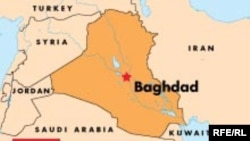 (RFE/RL) February 25, 2007 -- A suicide bomber killed 40 people outside a Baghdad business college today. Reports say most of the victims were students. Dozens of others were wounded.
Elsewhere, a string of car bombings and rocket salvos hit Baghdad as insurgents defied efforts by U.S. and Iraqi security forces to stabilize the capital.
Among attacks today, rockets and mortar bombs crashed into a market in a Shi'ite area in southern Baghdad. There are conflicting reports of casualties.
A car bomb also killed two people in central Baghdad, near the Iranian Embassy.
Meanwhile, radical Iraqi cleric Muqtada al-Sadr urged Iraqi security forces not to work with U.S. troops in enforcing a new Baghdad security plan.
Al-Sadr's location has been a mystery for several weeks. Iraqi and U.S. officials say he has gone to Iran, a claim denied by both Tehran and al-Sadr's movement.
(Reuters, AFP)

SUBSCRIBE For weekly news and analysis on Iraq by e-mail,
subscribe to "RFE/RL Iraq Report."