The U.S. military says it is checking the reports by Iraqi security force officials.
Ammar Hakim's father heads the Supreme Council for the Islamic Revolution in Iraq (SCIRI), the biggest party in Shi'ite Iraqi Prime Minister Nuri al-Maliki's national-unity cabinet.
It was not immediately clear why he was reportedly detained.
(Reuters, AP)

Sectarian Iraq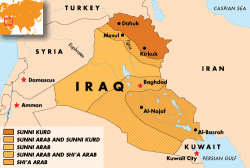 Click to enlarge the image.
SUNNI, SHI'A: Iraq is riven along sectarian lines, faults that frequently produce violent clashes and are a constant source of tension. Sectarian concerns drive much of Iraqi politics and are the main threat to the country's fragile security environment.


THE COMPLETE PICTURE: Click on the image to view RFE/RL's complete coverage of events in Iraq and that country's ongoing transition.