British Official Warns Of Risks Of A 'Failed Iraq'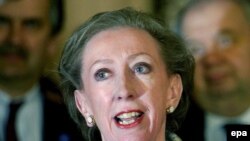 Margaret Beckett (file photo) (epa) February 27, 2007 -- British Foreign Secretary Margaret Beckett says a failed Iraq would pose as great a risk to international security as Afghanistan did when it was ruled by the Taliban.
Beckett, speaking during a visit to Pakistan, said the fate of Iraq "still hangs in the balance." But she said international efforts to stabilize the country will continue.
Britain plans to pull out 1,600 troops from Iraq, but will send an additional 1,400 soldiers to Afghanistan.
(AP)