Blair, speaking to reporters today in London, said that recent comments by Iran are "very worrying" because they reveal Tehran's intention to defy the international community.
He said Western powers are willing to talk to Iran, but that there must be some flexibility and compromise on Tehran's part.
"We are perfectly happy to talk to [Iran's leaders]," Blair said. "There is not a problem with talking to them. The question is, 'What's the conversation about?' -- given that they are saying they are not going to suspend enrichment, they are still supporting extremism in Iraq, in Lebanon, in Palestine, and they are not showing any signs that they are prepared to stop doing that."
Iranian Foreign Minister Manuchehr Mottaki reiterated today that the country will not suspend uranium enrichment.
He said Iran is prepared to negotiate over its nuclear program but "without any preconditions."
Senior diplomats from the five permanent UN Security Council members, plus Germany, met in London on February 26 and began drafting a new Security Council resolution aimed at tightening UN sanctions on Iran.
Iran says its nuclear program is for peaceful civilian purposes.
(Reuters, AP)

The Proliferation Threat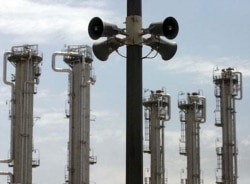 The Arak heavy-water plant in central Iran (Fars)


BENDING THE RULES. Henry Sokolski, executive director of the Nonproliferation Policy Education Center, told an RFE/RL-Radio Free Asia briefing on January 9 that the West is hamstrung in dealing with Iran and North Korea because of the way it has interpreted the international nonproliferation regime to benefit friendly countries like India and Japan.
LISTEN
Listen to the entire briefing (about 90 minutes):

Real Audio
Windows Media
RELATED ARTICLES
Iran, North Korea Present Proliferation Challenges
Tehran Watches As North Korea Tests Global Resolve
Rogue Nuclear Programs Threaten New Arms Race
Why Shouldn't Pyongyang Join Nuclear Club?