U.S. Envoy Calls Kazakhstan 'Strategic Partner'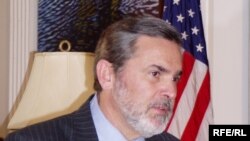 U.S. Assistant Secretary of State Richard Boucher (file photo) (RFE/RL) February 27, 2007 (RFE/RL) -- U.S. Assistant Secretary of State Richard Boucher said after meeting with Kazakh President Nursultan Nazarbaev in Astana today that the two countries are "strategic partners."
"We both agreed that the United States and Kazakhstan are strategic partners," Boucher said. "We have many elements to this partnership in terms of what we do in the world: our support for the independence and sovereignty of the countries of this region, the economic cooperation between the United States and Kazakhstan, and the continuation of the process of reform here in the country."
Boucher said the United States wants to help diversify Kazakhstan's economy and to support small and medium-sized enterprises.
He also said Washington is committed to pursuing close security cooperation with Astana, saying they both have a common interest in fighting terrorism and the drug trade.
Boucher's visit, which ends on February 28, is scheduled to include meetings with Foreign Minister Marat Tazhin, Prime Minister Karim Masimov, Senate Speaker Kasymzhomart Tokaev, and leaders of local nongovernmental groups.
(RFE/RL Kazakh Service)