At Least 10 Killed In Baghdad Car Bombing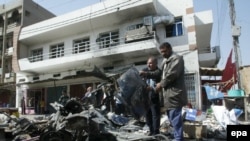 The site of today's car bomb explosion (epa) February 28, 2007 -- At least 10 people have been killed in a car bomb blast on a busy market street in Baghdad's Bayaa neighborhood.
The latest attack follows reports on February 27 of a car bomb that killed 18 people, mostly children, in the town of Al-Ramadi.
Meanwhile, a U.S. military statement says troops killed eight suspected Al-Qaeda militants and captured six in air and ground raids in Taji, north of Baghdad.
(AP, AFP, Reuters)

On The Verge Of Civil War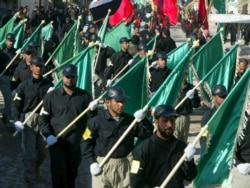 The Imam Al-Mahdi Army on parade (epa)
HAS THE CONFLICT IN IRAQ BECOME A CIVIL WAR? Many observers have concluded that the tit-for-tat sectarian violence that emerged after the February 2006 bombing of a mosque in Samarra has become a full-blown civil war.... (more)


RELATED ARTICLES
U.S. Media Starts Using 'Civil War' Label
Iraqi Prime Minister Under Fire From All Sides
U.S. Expert Discusses Prospects For Stabilization
President Says Iraq Needs Iran's Help
Saudi Arabia To Seal Off Border With Security Fence

THE COMPLETE PICTURE:
Click on the image to view RFE/RL's complete coverage of events in Iraq and that country's ongoing transition.